Hello friends and fellow book lovers! For December, I wanted to do some tags that really showcase what I love. As everyone knows, 2019 was truly the year for me falling back in love with the Jonas Brothers and realizing so many things about myself. With that being said, I knew I had to do a tag focusing on the Jonas Brothers. Thankfully, someone out there had the same thought as me and made one. 😀
This tag was created by Stars Above Jess on Youtube. All credit goes to her for this tag and honestly, thank you, Jess, because I am living for this tag lmao. With that being said, let's get into it!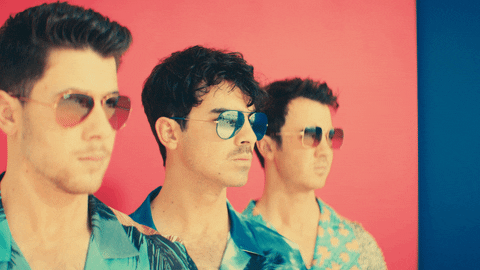 ---
Year 3000 – A book you're looking forward to reading
For this first question, I went with Lucky Caller by Emma Mills. Even though Emma Mills' last book was a disappointment to me, I'm hoping that this one ends up cementing her as one of my faves still. Considering how beautiful the cover is, I don't know how it could be anything but amazing. Since this comes out in January 2020, I don't have to wait much longer.
When You Look Me in the Eyes – A cover that drew you in
This is a book that I read in January and it's one of the most underrated books I've ever read. I feel like no one ever talks about it especially with this cover. It's a super bright orange which immediately caught my eye and I like how it has all the cameras on it which plays really well into the story. Overall, I really love the aesthetic of this cover.
S.O.S. – A book/series that turned its back on you
I feel like The Friend Zone is an obvious answer for this one. This book is going one way for a majority of it and then it takes a sudden turn that completely changed the tone of the book. It was incredibly frustrating and ultimately, made me dislike this book. It also has a very annoying ending so I didn't end up loving it.
Love Bug – A book/series you're currently smitten with
I feel like I don't even have to get into this book because I've been talking about it so much. I guess I didn't think I'd end up loving it as much as I did. Either way, I'm incredibly smitten with this book ❤
Burnin' Up – A book/series featuring a great romance
I think that Rebekah Weatherspoon writes amazing romances and my favorites are in her Loose Ends series. In Rafe, I love the relationship between Rafe and Sloan but my favorites so far are Xeni and Mason from Xeni. I just loved their relationship so much and I wish we would get another book just focused on those two but I know we'll see them make cameos in future installments so I can't really complain.
Play My Music – A book featuring a hobby that's not reading/writing
I don't know if I'd really consider what Portia does a hobby but I really enjoyed this aspect of A Duke by Default. The entire book is about Portia becoming an apprentice to a swordmaker. Since Portia had a lot of hobbies, it was nice to see her finding her niche and something she really enjoyed. As far as hobbies go, this could not be further removed from writing or reading.
Give Love a Try – A book/series you want to (or glad you did) give a second chance
For this one, I'm going with the Hoops series by Kennedy Ryan. I started this series last year and just didn't pick it up until the end of this year. I'm glad that I finally gave this another chance and decided to pick it up. It ended up being a lot better than I thought and I really enjoyed it. It's easily one of my new favorite series.
Fly With Me – Your OTP
No way I couldn't include Poppy and TK as my OTP because these two are everything. I really loved that we got a lot of backstory into their relationship and that they didn't try to go too fast either. Honestly, if you're looking for a healthy romance, then I'd highly recommend this book because Fumbled has such an adorable romance.
Paranoid – A hyped book you're scared you won't like
For this one, I decided to go with Six of Crows by Leigh Bardugo. I've only read one Leigh Bardugo book and I really enjoyed. However, I don't know how much I'll enjoy her when I'm reading a novel that isn't focused on Wonder Woman. Either way, I'm super scared that I won't like this book so I've been putting it off lmao.
Sucker – A book/series you'll always love no matter what
Even though I didn't fall in love with this series, I really enjoyed it. With that being said, I'll always love it because I read it with Ellyn. I think it was one of our first buddy-reads that we ever did and it brought us so much closer. Honestly, she's one of my favorite people and The Lunar Chronicles is part of the reason why 😀
---
I'm not going to tag anyone but if you're a Jonas Brothers fan, then I tag you!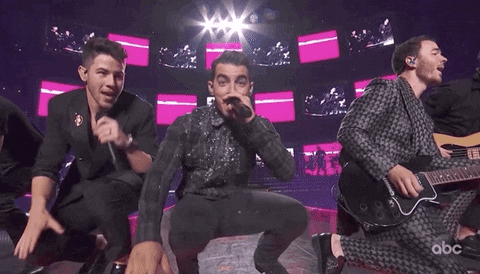 Find me on Twitter & Goodreads