Hello friends and fellow book lovers! After posting only one review in February, I'm back to posting them consistently this month. This week, I'm starting off with a doozy and that's The Cruel Prince by Holly Black.
If you've been on booktube, book blogs, book twitter or book anywhere, you've been hearing about this book. When I saw this book at Sam's Club, I knew I had to pick it up and see if it lived up. Without further ado, let's get into my review of The Cruel Prince by Holly Black.
This is a spoiler-free review. I won't be giving away any spoilers about the characters, plot or anything like that. At least, I hope I don't but I'm sure someone will let me know lol. Either way, here are my thoughts on The Cruel Prince.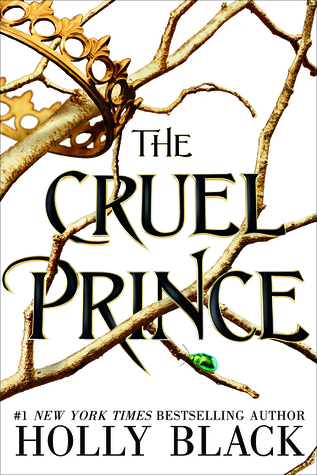 Before I jump into my review, I'm going to give some insight. I am not a fantasy lover or avid reader. I'm more of a contemporary reader so this is not generally a book I would pick up. Even with all the hype, I have to say I did enjoy it.
As per usual, I'm going to start off with the writing style. This is my first time reading Holly Black so I wasn't sure what to expect. Personally, I really enjoyed her writing style and I can see why she's such a beloved fantasy author. She writes such vivid and lovely descriptions.
At times, it felt like I could close my eyes and picture everything. Black also knows how to write complex and morally grey characters. Usually, I'm all about rooting for the hero but this book changed my thoughts on that. She also focused a lot on the political side of things which I think was done extremely well.
I won't give away the plot of the book, but it basically follows Jude and her sisters, growing up in High Court of Faerie and Jude's plan to join the Court. There were so many twists and turns in the story especially in the second half. Black kept me guessing and I loved it.
As for characters, I don't want to give away too much again. Mostly, we follow Jude who is a morally grey character. There are certain points where you root for her and others where you wish you didn't. She was incredibly brave, but still had an air of innocence and naivety to her.
We're also introduced to Jude's family including her sisters: Vivi and Taryn. As for the Fae characters, there's the group of their schoolmates who hate Jude and relish in any chance to make her feel bad. I do tip my head to Black though as they were extremely well-written and were given significant backstories.
My main complaint about this book was its slow start. At least to me, the book started off incredibly slow. Once I got to the second half, it really picked up and I couldn't put it down. Maybe it was just me, but the beginning just didn't suck me in.
Overall as someone who isn't a regular fantasy reader, I enjoyed The Cruel Prince and can see why everyone is hyping it up. It's a good story with great characters and is a lot of fun.
I give The Cruel Prince 4/5 stars. Have you read The Cruel Prince? If so, what did you rate it? If you didn't, are you giving into the hype?