Hello friends and fellow book lovers! June is here and for most, the start of summer. I can't wait for summer for multiple reasons. Those reasons aside, I'm doing something incredibly fun this month.
Instead of setting a normal TBR, I'm creating a themed TBR. Since it is Pride Month, I'm only reading books with characters on the LGBTQIA spectrum. I've been thinking about this post for weeks and I'm so happy I'm finally creating it.
Without further ado, let's get into the books I plan on reading in the month of June 😀
1. How To Make A Wish by Ashley Herring Blake
Everyone on Booktube has been raving about this book and Ashley Herring Blake. I have yet to read any of her work but it's time. I know a bit about this book as there's an f/f romance, a bi MC and I think one of her parents deals with addiction. All I know is I've been waiting forever to read this and thankfully hoopla has it!
2. Ship It by Britta Lundin
This is easily the book I'm most hesitant about reading. Looking on GR and fellow blogs, this book is sort of a mixed bag. People either love it or hate it but it's another one on hoopla so I won't lose much.
As someone who loves fandom, was part of a big fandom and eventually left several fandoms, I'm anxious to read. I think there's a f/f romance and obviously talk about queerness in fandom? I don't know 100% but this is one I have thoughts about.
3. Caroline's Heart by Austin Chant
Now we're getting into a book I've been thinking about forever. Last year, I read Coffee Boy by Austin Chant and liked it. Since then, I've been eager to read more of his books and when I saw Libby had Caroline's Heart, I jumped on it.
I don't know much about this book beside it has two trans MCs or at least, one. Either way, I love Chant's writing style and I'm just so excited to read it already!
4. Seven Ways We Lie by Riley Redgate
I'm trying all new things this month. Riley Redgate is another author I have yet to read but want to try out. I've heard good things about Seven Ways We Lie and it's finally time I check it out. I'm not entirely sure what sexualities are represented, but I know there are some?? Is that bad?? I'm sorry but I don't want to spoil myself 😛
5. Autoboyography by Christina Lauren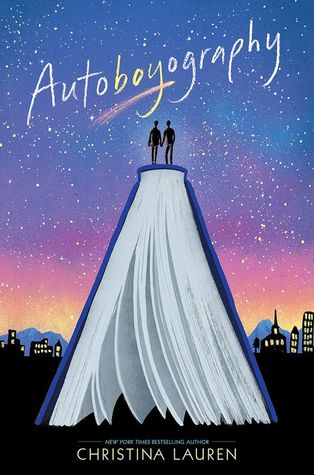 I have been wanting to read this book for months now and haven't picked it up. That's why now is a perfect time. Once again, this is another author I have yet to read anything from. I've heard good things so I have high hopes for the authors and the book.
As far as I know, there's an m/m romance and the MC is bi. Everyone loves it and I want to join in on the hype finally!
6. Moonstruck Vol 1 by Grace Ellis and Shae Beagle
I had to include a graphic novel on my list! Even though I'm not sure if I'm going to use hoopla or read it on my computer, I know nothing about this one. Big surprise, huh but the art style looks cute, I enjoy Grace Ellis and it's an f/f romance.
---
Even though I'm a #straight person, I always love reading books with characters on the LGBTQIA spectrum, diverse books or books with non-white/straight authors. I'm sort of new to reading diverse books (a year or so), but that makes me even more excited to check these out. 🙂
What books are you reading this month? Are you reading any books with characters on the LGBTQIA spectrum?