Hello friends and fellow book lovers! I'm writing this post early in the month of June as I've already read a ton of books. Considering how much I've been reading, I might try to do a mid-month wrap-up. With all the books I've been buying on Kindle and ones I've been adding to my TBR, I always feel like I have something to read. Either way, let's get into my reads for July including the Pop Culture Readathon.
If you want to know more about the Pop Culture readathon, you can check out my TBR post from earlier in July. For this round, I decided to read books via the prompts from the "Adult Table" board so I'm going to include the board below and all of the books I read for each of the prompts.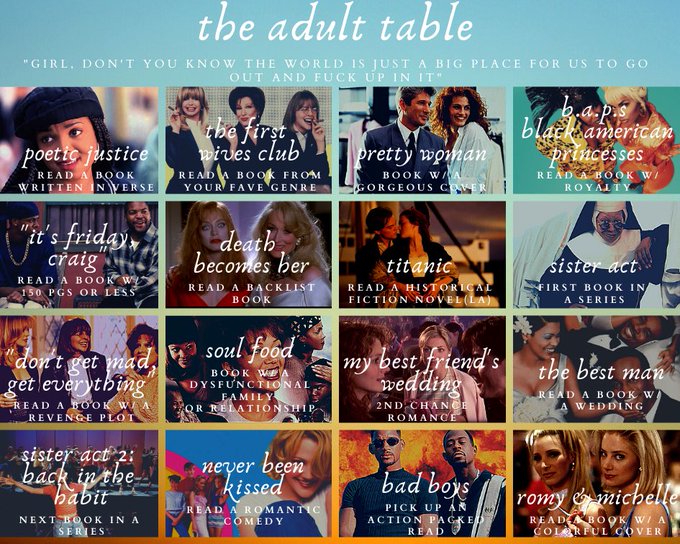 I'm going to go row by row for this one so let's get into the books. 🙂
Poetic Justice: Read a book written in verse
The book I read for this prompt was Other Words for Home by Jasmine Warga. This book is a middle-grade written in verse and it follows Jude who immigrates from Syria to American with her mother. Personally, I thought this book was so beautifully written and it was light while still focusing on some tough topics. It was such a wonderful audiobook and I don't want to give too much away as I thought it was better to go in blind since it unfolds so nicely. 5/5 stars
The First Wives Club: Read a book from your fave genre
Originally, I planned on reading Take A Hint, Dani Brown for this one, but you'll see which prompt I used it for. Instead, my library hold for this book came off and I decided to pick it up. I was ready to not enjoy this book because of the hype but I absolutely loved it. If you didn't know, it's a romance between two writers who write in completely different genre and challenge each other to write their respective genres.
Oddly enough, this book is less of a romance and more about our characters dealing with their lives while having a romance. It was so much more than I hoped for and I absolutely loved this. 5/5 stars. It does deal with the loss of a parent if that's a topic you're sensitive to.
Pretty Woman: Read a book with a gorgeous cover
The book I read for this prompt is Professional Pleasure by Tia Love. This is a boss-employee romance and it's incredibly short. I don't want to give too much away as it's so short. I thought it was cute and sexy but I think things moved a little bit slow and it had an eplogioe I found unnecessary. Either way, it was a solid Black romance read. 4/5 stars
Black American Princess: Read a book with royalty
The book I chose for this one was Surrender To Sin by Nicola Davidson and this book was everything. It focused on a woman who wants to "ruin" herself to get out of a forced engagement so she enlists a guy who owns a sex club called Fallen. This one was incredibly sexy and smutty but with a historical setting. It was super short to boot if you're looking for some sexy historical romance. The main issue I had was the ending which felt a little bit too dramatic. 4/5 stars
It's Friday, Craig: Read a book with 150 pages or less
For my book under 150 pages, I decided to read Naughty Boss by Whitney G. This is my first book by Whitney G and I have to say it was everything I thought it would be. It's all about a girl who "hates" her boss and then the two end up hooking up. Eventually, things go from there but that's basically it. It's incredibly smutty if you enjoy that. 3/5 stars
Death Becomes Her: Read a backlist book
This was actually the first book I read this month and it's the sequel to Strictly Professional which I read earlier this year. This book follows the same characters and it's basically their "second-chance" romance. I don't want to give away too many details but I thought it was better than the first book and I loved seeing these characters again. 4/5 stars
Titanic: Read a historical fiction novel/novella
The book I read for this one was Hammer & Tongs by Lara Kinsey. I read some of her books last month so I decided to pick up a series by her. This is a historical romance between Isaiah and Arthur/Brigid and the challenges they face with Isisah's business and their relationship. I'm pretty sure both characters are either bi or pan but I don't remember. Either way, I enjoyed this book but I wish it would've been longer. 4/5 stars
Sister Act: Read the first book in a series
Next up is Mile High which is the first book in the Mile High duet by B. Cranford. It follows Bianca who recently divorced her husband and Luke, the guy she's seating next to's romance. This book is just a prequel to a full-length novel and I might continue the series. This was incredibly quick but had a lot of heart and lots of smut in it. While not my favorite smutty read, it was a quick one to read before bed. 4/5 stars
"Don't Get Mad, Get Everything:" Read a book with a revenge plot
For the revenge prompt, I decided to read Lady Ruthless by Scarlett Scott. This book actually features two revenge plots. First, Callie exacts revenge on Lord Sinclair as she believes he murdered her brother and ruins his reputation. For his revenge, Lord Sinclair decides to marry her and save his reputation. Despite him abducting her in the beginning, this book is solid.
I had three main issues with it, though. First, I thought that Callie was a little too headstrong as she really had no prove Sin did those things. Second, this book features a marriage of convenience and we don't see the wedding. I would've liked to see Callie and Sin get married as there would have been fireworks. Lastly, I wished this book was a little shorter. I think the author could have condensed some things. Either way, it wasn't a bad read. 3/5 stars
Soul Food: Read a book with a dysfunctional family/relationship
The book I read for this one was Better Off Red by Rebekah Weatherspoon which is the first in her Vampire Sorority Sisters series. This follows a romance between Ginger and the queen of the vampires, Camila. Honestly, it took me forever to get into this book and I'm not sure why. It had all the makings of a good vampire romance but it just didn't work for me. Either way, it ended up working for this prompt so worth it lol. 2/5 stars
My Best Friend's Wedding: Read a second-chance romance
I was trying to find a place to fit this book as it was 4th of July romance and it fit in this square. This book focuses on Rosie and Leo who were together when they were teens until he moved away. Now he's back and Rosie's divorced so obviously, they agree to hook up like old times. This book is short yet so sweet, spicy and fun. I don't even really celebrate the 4th but this book was a delight. Not to mention, this book has a bisexual male character and tons of kinks so if you like that, read this. You won't regret it. 4/5 stars
The Best Man: Read a book with a wedding
Originally, I had a different book in mind for this, but I saw this one was on hold at the library and I like Jackie Lau. Not Another Family Wedding follows Natalie who is 36, doesn't want kids and is attending her sister's wedding. She brings her friend Connor along to hopefully ensure nothing goes wrong as it's a curse in her family. Of course, things do go wrong and it's their romance.
I really enjoyed this book especially all of the commentary about Natalie not wanting kids and how she wanted someone to value her rather than value what she could do for them. The only issue I had was the writing style. For some reason, I like Jackie Lau but her writing style maybe isn't for me. 4/5 stars
Sister Act 2: Back In the Habit: Read the next book in a series
The book I used for this prompt was Take A Hint, Dani Brown. I absolutely loved this book and if you want to know more of my thoughts, be sure to check out my post.
Never Been Kissed: Read a romantic comedy
I knew I wanted to pick some incredibly short books and this one was incredibly short as it clocked in at just under 60 pages. This book is a short story, following Puneet and Clint who go out after emailing back and forth. While it's incredibly short, I think their relationship was well-developed although I do wish we'd gotten more of it. Either way, I really enjoyed this and no one has rated it yet on Goodreads so if you like romance, I implore you to check it out. 4/5 stars
Bad Boys: Pick up an action-packed read
The book I used for this prompt is The Water Dancer by Ta-Nehisi Coates. This book follows Hiram who was born a slave and the powers he possessed. This book also features slavery, some questionable acts by "trusted" characters and a bit of a magical twist. My main issue was that this book wasn't marketed as "magical realism" and it is very much is. Additionally, I didn't enjoy the certain personification of a historical figure along with the writing style. However, it did feature a lot of action. 3/5 stars
Romy & Michelle: Read a book with a colorful cover
This was the final prompt on the board and also the last book I read to get a blackout bingo. The Tea Dragon Society by Katie O'Neill is an adorable graphic novel featuring Greta who is introduced to the Tea Dragons and the people who take care of them. She takes an interest in it and it's basically her journey to becoming part of the Tea Dragon Society.
Honestly, this was such a soft and sweet story. The art style was also super adorable and it just made me so happy. While I really loved this, it's probably not going to be one of my absolute faves. Either way, it was just such a delight. 4.5/5 stars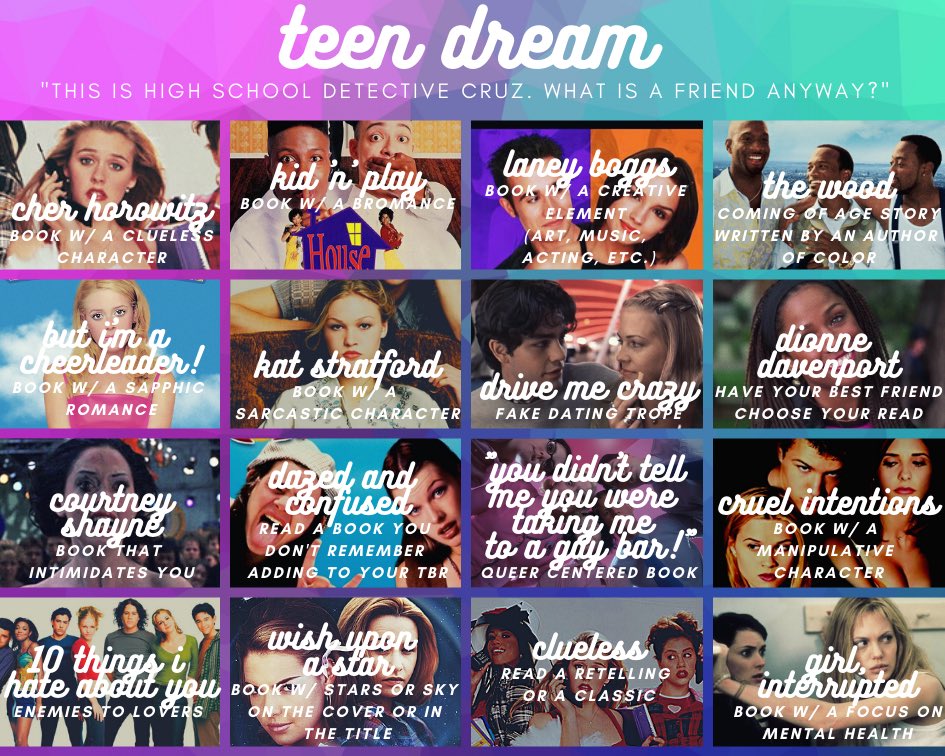 As for the second board I'm working on, I decided to go with the "Teen Dream" category as the books I've been in the mood for really work with this board. With that being said, I decided to read books in the first row down so let's get into them.
Cher Horowitz: Read a book with a clueless character
The book I ended up using for this one is My Lovely Wife by Samantha Downing. I read a lot of light and fun books so I wanted something a little darker. This book follows a couple who works together to kill women for fun. I'm not going to say anything else to avoid spoilers but I enjoyed this. While not my favorite thriller, I'm glad I read it and is part of the reason why I picked up another book on this board. 3.5/5 stars
Courtney Shayne: Read a book that intimidates you
The next book I picked up is surprisingly another thriller. After reading lots of light books at the beginning of the month, I was in the mood for something darker at the end of the month. This book is basically a retelling of The Amityville Horror story with two different timelines: one focusing on the book written by the MC's father and the present when she's back at the house. I won't say much more but this book absolutely blew me away and I was right to be intimidated. Overall though, I thought it was an enjoyable read and it honestly scared me which isn't easy to do. 4.5/5 stars
10 Things I Hate About You: Enemies to Lovers
The next book I read came off hold at the library and this is the second novella in the Dimple & Rishi series. This is set before 10 Things I Hate about Pinky and gives a brief glimpse into the enemies-to-lovers relationship to come. While this one is teetering on the border of this challenge, I'm going to count it. This was cute and I think it gave an interesting look at what the dynamic in the final book will be. 4/5 stars
But I'm A Cheerleader!: A book with a sapphic romance
The next book I read was Four Letter Word by Ava Freeman. This is a novella featuring a romance between two co-workers, Maya and Anais. While I really enjoyed it, I did have a few issues with it. First, it needed more editing and it was very distracting. Second, I felt like the sexy scenes were a little bit too long/clunky. Lastly, I think it should have been longer. Overall though, Four Letter Word was an adorable romance with two Black main characters and I do plan on continuing the series. 3.5/5 stars
Girl, Interrupted: Read a book with a focus on mental health
One of my library holds came off and it was Girl Gone Viral which is the second book in the Modern Love series. This one follows Katrina and the romance with her bodyguard after a fake "meet-cute" puts her in danger. This was such a cute romance but the main issue I had was the lack of communication between characters. They should've been better about sharing their feelings and I think things would have been smoother. It wasn't as good as the first book but I still enjoyed it. 4/5 stars
The last book I read this month didn't fit into the bingo board and it was The Boyfriend Project by Farrah Rochon. This book focuses on three women who find out they're being three-timed by the same man and form a friendship. This book focuses on Samira, one of the women who is in STEM and the relationship she gets into with Daniel.
As much as I wanted to love this book, it feel like the author couldn't decide which direction she was going to go. She didn't go fully into the romance genre but didn't commit fully to a chick lit novel. It was good but I wish the author would've stuck to something over the other. It felt a little too under-developed for me but it was still a solid read. 3/5 stars
Those are the 22 books I read for the Pop Culture Readathon. Personally, I'm really happy with all of the books I was able to complete. I'm also happy I was able to get a full blackout on my bingo board and one bingo on another. Overall, I thought this readathon was great and I'm happy I participated.
Before you finish reading my post, please take time to look over these attached links to help with Black Lives Matter. Whether it be signing a petition, donating or simply re-sharing this same link, USE YOUR VOICE. If you're a white person reading this, you have privilege and it is your duty as an ally to educate yourself, amplify Black voices and show that Black Lives Matter.