Hello friends and fellow book lovers! I've been thinking about writing this post for a while and I decided to take the plunge. We're in the midst of quarantine so I figured why not? I rarely do recommendation posts and I've been feeling more creative. If you couldn't tell by the title, I'm going to be recommending a book for every song on the Jonas Brothers 2019 album, "Happiness Begins."
As soon as I started searching for something similar, I saw a booktuber, Gabby from Gabby Reads did the same thing but with Taylor Swift. I also have another post coming up that's inspired by Gabby who I don't follow but we must share a brain or something lol. Either way, I wanted to give her credit as she came up with the idea so let's get into the songs and the books I'd pair with them.
Track 1: Sucker
Kicking off the list is none other than their first single since reuniting, "Sucker." If you haven't heard this song, you've been living under a rock. Either way, this is obviously a song about being in love with someone and also realizing the challenges that come with it. The lyrics I really focused on was: "You're the medicine and the pain. The tattoo inside my brain and baby, you know it's obvious. I'm a sucker for you."
The book I chose for "Sucker" is Get A Life, Chloe Brown. It's clear while reading the book that Red is a sucker for Chloe. He doesn't care about how much they might disagree or how things go, he's still going to be there. As soon as I thought of Sucker, this was the first book to pop into my mind. While Chloe would pretend to hate it, I think she'd enjoy hearing Red sing along to the Jonas Brothers.
Track 2: Cool
Cool is one of the more upbeat and fun songs on this album. When I think of "Cool," I think of having fun and spending a summer day, doing whatever I wanted. If I had to describe it, I'd say it's a chill and fun song. Personally, I'd associate it with a book that doesn't take it too seriously and is a lot of fun to read.
That's why I decided on the Giant Days series. Giant Days follows a group of friends in college and it's basically their misadventures. It doesn't have much of a plot but is still a lot of fun and doesn't take itself too seriously. Oddly enough, I didn't love "Cool" when it first came out and I didn't love volume 1 but have loved the others. This is a surprisingly solid pick.
Track 3: Only Human
"Only Human" is one of their more "sexy" songs. It has a pretty sexy beat and is generally known for being a more sensual song than their previous releases. Personally, I really get DNCE vibes from it. With that being said, I knew I wanted to go with a more mature romance and one that isn't afraid to have fun while still being sexy.
The book I chose to pair with "Only Human" is Birthday Girl by Penelope Douglas which is a romance between a girl and her boyfriend's dad. It's more taboo but I think it fits well with the lyrics of the song. Pike and Jordan shouldn't be attracted to each other but they can't help it and their chemistry is off the charts. As for the lyrics I'm referring to, "It's only human. You know that it's real, so why would you fight or try to deny the way that you feel?" That's pretty much exactly how I'd describe Pike and Jordan's relationship.
Track 4: "I Believe"
The next song up is "I Believe" which is another love song. I'm pretty sure this song is based on Nick and Priyanka's relationship. It has a slightly dreamy feel due to its lyrics and the beat of the song. Basically, it's all about being in a relationship and the benefits that come with having a great partner.
The book I chose to go with this one is A Prince on Paper by Alyssa Cole which is the final book in the Reluctant Royals series. This book follows Nya and Johan's relationship which starts off fake before things start to change for both of them. Personally, I think this song would be something Johan would think about Nya. Johan fell in love with Nya and she was it for him which I loved. For the lyrics that jump to me, it has to be, "You show me something I can't live without. I believe when you hold me, it's like heaven coming down." If you haven't picked this book yet and you like "I Believe," this could be the one for you.
Track 5: "Used To Be"
Let me start off by saying "Used To Be" is my favorite song from this album. I've listened to this song on repeat for hours and never gotten sick of it. Something about how the boys sounded combined with the lyrics makes me happy. If you haven't heard it, it's basically a "break-up" song, reflecting back on a relationship and how the person still comes back to you even if you're not together.
For that reason, I chose Block Shot by Kennedy Ryan which is a second-chance romance between Jared and Banner. Personally, I think this song is emotional and this book is pretty emotional. This book deals with a lot more serious topics than the story but I really enjoy both. The lyrics that stand out to me are: "Lately I don't even know ya. Too many devils on your shoulder. Oh my god, baby if it's what you want. I just wanna see you happy." This song just gets me every time.
Track 6: Every Single Time
This is not one of my favorites from the album but I do enjoy it once in a while. This song is about an on-again, off-again relationship between two people. It's basically how they can't stay with each other but can't stay away from each other. As for a book, this is where it gets tricky.
You might be wondering why I chose this book as it has such a cute cover. Personally, I think this song fits well with Emily and Simon's relationship. In the renaissance world, they get along but in real life, they can't stand each other. Eventually, they're able to let their worlds collide but until then, it's a lot of back-and-forths. This was a tough one so I'm going out on a limb with this pick. Lol
Track 7: "Don't Throw It Away"
This is another song that I really love. It's basically about a couple possibly breaking up and one partner telling the other to give it time and think about it before making any rash decisions. I don't know if it's because of the beat but I really love this song. It's another tough one as these are more about couples who are in the midst of possibly breaking up so it's tough. Either way, I think I found a decent recommendation.
The book I chose for this song is Dirty Letters by Vi Keeland and Penelope Ward which follows two pen-pals. They have a falling-out and eventually, come back to each other but not without some hesitation. In a lot of ways, their relationship has a lot of moments that connect to this song. As for the lyrics, the one I relate to this book are: "Don't save the words 'til it's too late. I know it hurts and that's okay." Considering it mostly follows letters, these lyrics are perfect.
Track 8: "Love Her"
This is another song I feel kind of meh about. While I think it's cute, it doesn't do anything for me. With that being said, it's basically about being head-over-heels in love with someone and how no matter what you two go through, you'll always love that person. It's obviously written for their wives but not one of my favorites. Lol
I wanted to go with a cute romance and the one that seemed to fit with this song to me is Josh and Hazel's Guide to Not Dating. This is a friends-to-lovers romance between Josh and Hazel who set each other up on dates but always end up going home together. Even though the book had a trope I hated, I really enjoyed their relationship. Josh loved Hazel and all of her quirks which most guys would be annoyed with. "Love Her" is such a cute and fluffy song which fits the tone of this book nicely.
Track 9: "Happy When I'm Sad"
This is a song that not a lot of Jonas fans like and I don't blame them. This song seems like a odd pick especially if you're listening to this album in order. It's basically about people thinking you're happy when you're actually sad. It's kind of a depressing song so it was hard to find a book with the same tone.
In a lot of ways, this song is about putting on a performance and what better book to chose than Daisy Jones & The Six? This book follows a band who are putting on performances for their fans but also performing in their own lives. If you've read this book, then you know what I'm talking about. While I struggled at first, I think that Daisy Jones & The Six is the perfect book to pair with this song.
Track 10: "Trust"
This is another song I haven't loved as much as everyone else. Either way, it's a song about being with someone and not trusting yourself to make good decisions while you're around that person. While not necessarily a toxic relationship, it's more like a person being irrestiable to you. At least, that's how I interpret it. Lol
No way I couldn't feature this book as that's basically the entire theme of this book if you've read it. This is a companion book to Let's Get Textual and it follow the best friend of the MC and her ex hooking up basically. While the two try to fight it as much as they can, they're hopelessly attracted to each other. I'm pretty sure that Zoe says something about not trusting herself around Caleb at some point. As for the lyrics, the ones that stood out to me for this one were, "I know that I'm better off without you, But I know that I could never live without you."
Track 11: "Strangers"
Ugh this song is an absolute bop. It's all about meeting someone and immediately feeling a connection to them. Even though you might not know each other yet, you feel like something's there. This is something a lot of romance books employ so it's going to be tough to pick just one.
The book I chose for "Strangers" is Getting Schooled by Christina C. Jones which is the first book in the Wright Brothers series. This follows a hate-to-love romance between Reese and Jason who are immediately attracted to each other physically but can't stand each other at first. Eventually, they warm to each other but they have such a kinship that it feels like they've met before. Their banter is just top-notch so hopefully you feel like this song fits with this book, too. 😛
Track 12: "Hesitate"
For those who don't know, this is what Joe calls his vows before his vows. Basically, it's a song he wrote for Sophie. He always says how he thinks of Sophie for half the song and it's basically a love letter to her. It's about not hesitating to be there for your partner and working through things together. Incredibly romantic if you think about it.
I'm not sure why this book didn't come to mind immediately. The relationship in The Kiss Quotient reminds me so much of this song. In a lot of ways, Michael doesn't hesitate when it comes to Stella and what she can handle. He isn't afraid of the hurdles they have to go through or how unconvential their relationship is. While Stella might hesitate sometimes, Michael is there to hold her hand and assure her everything's alright. I can imagine Michael's vows to Stella would be similar to this song.
Track 13: "Rollercoaster"
This song has become the "unofficial" anthem for their comeback. It's basically talking about their journey and where they are now. While I don't really have a book that chronicles that, I do have a book that focuses on friendships and how loving a band can bring people together so let's get into it.
Is anyone shocked by this pick?? I've been waiting to use this book since I started my post and I found the perfect place. If you don't know, this book follows multiple different plotlines including one in which Claudia and Iris become unexpected friends after bonding over their shared love for a band. While I don't have very many friends in the Jonas fandom, the ones I have, I treasure dearly. This book does a great job of illustrating fandom, the friendships you make and what being a fangirl is like.
Track 14: "Comeback"
Finally, we've made it to the last song and what a wild ride it's been. This is another love song which is obviously the majority of this album. It's about a couple and how no matter what happens, they'll always come back to each other. It's a sweet sentiment and once again, another perfect song to pair with a romance book. Lol
The book I chose is actually one that's second in the series but I think you'd be fine if you didn't read the first book. This one is a second-chance romance between a couple who met in high school, things fell apart and they reconnect. In a lot of ways, I think these two remind of this song as they found their way back to each other and kept coming back to each other.
---
This felt like the toughest and longest post I've ever done. Not actually true, but it's hard to try to connect some of these songs to books. Hopefully I did a decent job though as it wasn't easy. Either way, I'm happy I did this post as I've been thinking about it for a while. I might try to branch out to other Jonas Brothers' albums but we'll see how this post goes. 😛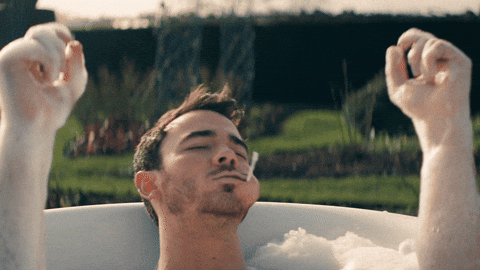 Find me on Twitter & Goodreads