Hello friends and fellow movie lovers! It's Wednesday and that means that it's time for another "My Favorite" post. If you've been following, then you'll know that I've been doing a monthly theme. It's hard to believe that next week is our last week of this but let's not get ahead of ourselves.
BookishlyRebecca is now the host of the "My Favorite" meme, a weekly meme posted on Wednesday. Originally started by Maureen's Books, she agreed to let me take over.
As Maureen described it, "In this meme, we share every week something we love with each other. Because let's face it. The world can be a dark place and it's to share something positive. Each week I will post a new My Favorite.. post about one subject and I'll tell you all about it. And the best part? Everyone is welcome to join. The only thing you'll have to do is sign up on my weekly post, link back to this post and visit others."
At the end of each month, I'll post the prompts for the following month so be sure to check back then!
---
If I had to pick a favorite book-to-movie adaptation, it would have to be Matilda. I recently read the book for the first time and since then, I've been itching to watch the movie. While I haven't watched it yet, I realized that a lot of it carries over from the book. A few things are changed but for the most part, it's a faithful adaptation. Plus it's such an iconic movie from my childhood, too.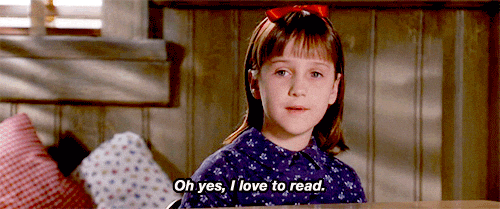 I figured I'd also include a few honorable mentions: To All The Boys I've Loved Before, The Princess Diaries, The Sisterhood of the Traveling Pants, Diary of a Wimpy Kid and Coraline.
Find me on Twitter & Goodreads