Hello friends and fellow book lovers! It's another "My Favorite" post and this one is centered around Valentine's Day. Even though I'm single, I do enjoy love, especially in book form. There are tons of bookish couples that I love and so many that I wish existed IRL. Either way, I knew I had to feature a prompt about them so even if you're single like me, we can still talk about love. 😛
BookishlyRebecca is now the host of the "My Favorite" meme, a weekly meme posted on Wednesday. Originally started by Maureen's Books, she agreed to let me take over.
As Maureen described it, "In this meme, we share every week something we love with each other. Because let's face it. The world can be a dark place and it's to share something positive. Each week I will post a new My Favorite.. post about one subject and I'll tell you all about it. And the best part? Everyone is welcome to join. The only thing you'll have to do is sign up on my weekly post, link back to this post and visit others."
At the end of each month, I'll post the prompts for the following month so be sure to check back then!
---
If you saw my wrap-up, then this should come as no surprise. My favorite bookish couple as of 2020 has to be Ruth and Evan from A Girl Like Her. These two are the ultimate example of opposites attract as Ruth is rather prickly while Evan is basically a huge teddy bear. Watching their relationship develop especially from Ruth's POV was so swoon-worthy. By the end, I couldn't help but root for them and I'm so happy they made an appearance in the novella following this book.
What made me happiest was how their relationship started. It basically started as a deal between the two and it spiraled from there. While I don't want to give away too many details, I thought that was such a cute way to start their relationship. Once again, Talia Hibbert is absolutely brilliant when it comes to writing relationships and I'm sure I'll confirm that as I finish her backlist.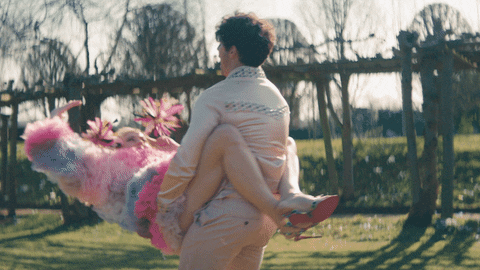 Find me on Twitter & Goodreads