Hello friends and fellow book lovers! I am SO happy that Top 5 Tuesday is back, I really missed writing up these posts. Once again, Shanah is killing it with this week's topic to kick off the new year. To be totally honest, I was already planning on making a post similar but it saves me the trouble 😉
With that being said, I'm not going to repeat any of the books I featured on books I didn't get to in 2019. I am linking it if you want to see it as there are a ton of good books there. Either way, let's get into what Top 5 Tuesday is and my answers. If you're interested in participating in Top 5 Tuesday, all you have do is write up your post and pingback to one of Shanah's posts. Make sure you pingback to her posts and not just her blog so she can add you to the list.
---
Luckily, I have an entire spread in my bullet journal dedicated to this. My list has 20 on it but I'm only going to be including 5.
5. His Royal Highness
The first book on my list is a pretty recent release. It was released in November so I have a bit of leeway. I've never read anything by R.S. Grey but I want to. I've heard this is one of her better books as it focuses on a guy and a girl who works at an amusement park that's kind of like Disney. I'm pretty sure that they both play face characters and things progress from there?? Either way, I'm excited to get to it.
4. Queen of Nothing
The next book on my list is another one that is a pretty recent release. As the concluding part of the Folk of the Air trilogy, I feel like I've been waiting forever for this. Considering how The Wicked King ended, I'm super excited and nervous to see what's going to happen. I know that this one isn't everyone's favorite but I hope that I at least find it enjoyable. I really want to finish this series before the year ends so this one is a pretty high priority.
3. Matilda
I feel like I'm super late to the party with this one?? Either way, I never read Matilda when I was younger so I want to read it now. I read The Witches last year and really enjoyed it. Personally, I've never been a huge fan of Roald Dahl but I really do love the movie based on this. I'm not sure how similar it'll be so this is going to be a fun one.
2. Lucky Caller
No list of mine would be complete without an Emma Mills book. Since I was a little bit disappointed in her 2019 release, I'm feeling a little skeptical going into this one. I haven't ordered it yet but I plan to. I haven't looked into it at all so I'm just hoping that it doesn't end up disappointing me. Of course, I'm still going to own it regardless as she's an auto-buy author for me.
1. No Good Deed
Last year, I read Kill The Boy Band for the Contemporary-A-Thon and LOVED it. Since then, I've been eager to pick up another Goldy Moldavsky book. She only has these two out so I was kind of waiting for a while. However, I think 2020 is finally the time as I think she's coming out with a new book in September. I know this book focuses on a guy who goes to a camp that focuses on activism and helping out a cause but it ends up becoming more of a competition. It sounds like such a unique premise that I feel like it's going to be right up my alley.
---
Those are 5 books I know that I NEED to read in 2020. I'm hoping that I'm able to locate most of them and I'm crossing my fingers that I enjoy them too. Lol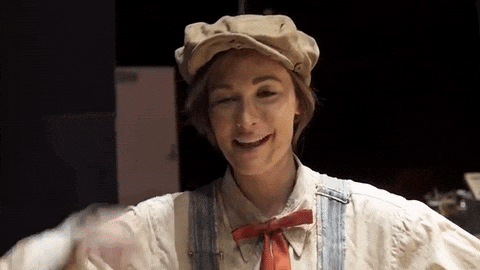 Find me on Twitter & Goodreads