Hello friends and fellow book lovers! Since it's almost the end of the year, I decided to do Ellyn's Book Awards post. I thought this would be a fun way to look back at the year and talk about some of my favorite books. I also might do a top 5 books at the end depending on how much I get to mention them. Either way, let's get into my picks for Ellyn's book awards. 😀

---
Stats
How Many Books I Read in 2019: Currently, I've read 157 books. Since my goal was to read one more book than last year, I have to read at least 151 to beat that which I did.
Most Popular Reading Format: For me, this is easily ebook. I know that not everyone loves ebooks but I have a library card for the Philly library and I'm not near there so it's a lot easier. Since I'm such a library fend, this is no surprise.
Number of Books I Read From the Library: Oh boy! Let me see if I can figure this one out. At this point, the answer is 73 books so almost half of my books have come from the library which is pretty great.
Number of Review Copies I Read: 0
Number of Books I Reviewed: 14 books plus a few mini-reviews for read-a-thons so I'm going to say around 25 books?
Categories
The Best Contemporary You Read in 2019

For this one, I'm going with With the Fire on High by Elizabeth Acevedo. I'm a big contemporary reader but one that really stood out to me this year was With the Fire on High. Elizabeth Acevedo tells such a compelling story about Emoni and her struggles while still being incredibly hopeful. Overall, this book was such a delight and I'm glad that I was able to read this in 2019.
The Best Sci-fi/Fantasy You Read in 2019
This one was pretty easy as I don't read much sci-fi or fantasy so narrowing this one down wasn't hard. For my pick, I'm going with Sorcery of Thorns which was a gift from Lysette and I honestly loved it. While it did take a while to get me sucked in, I couldn't put it down once I was invested. I do wish there was a bit more romance but as a romance reader, that's no surprise. If you're a book lover, then this one is a must-read.
The Best 2019 Release You Read in 2019
I struggled with this one because I had SO many 2019 releases I loved. However, I decided to go with Get A Life, Chloe Brown. Even though I just read this in November, I completely fell in love with it. This book follows Chloe who after a near-death experience wants to "get a life" and befriends a guy in her building to help. This book is sweet, steamy and features one of my favorite romances of the year. This was a tough pick but I decided to go with Chloe.
The Best Series Finale You Read in 2019
Considering that I've been waiting forever for the conclusion of this series, Capturing the Devil was one of the first that popped into my head. The final book in the Stalking Jack the Ripper series doesn't disappoint. It wraps everything up neatly and gives the fans an ending we deserve. Personally, there isn't much I'd change about this book as much as I'm sad to see the series come to an end.
The Best "Out of My Comfort Zone" Book You Read in 2019
In 2019, I didn't read very much YA but one genre I haven't really read is magical realism and this was my first foray into it. Thankfully, I ended up really loving this book and it is one that I know I'll revisit. It's about two sisters as they prepare for the annual sighting of Annabelle, a bird on their island and it's basically about what happens with that and their relationship. Overall, I really enjoyed this book and would highly recommend it if you're new to the genre like I was.
The Best "Why Didn't I Read This Earlier" Book
I'm not sure why but I was dragging my feet on reading this. However, The Unhoneymooners was arguably one of the best romances I read this year. It was a hate-to-love fake-dating romance and it was so incredible. I loved the characters and their banter but I especially loved the romance. I know that Christina Lauren has been hit-or-miss for some but The Unhoneymooners was a delight.
The Book I Wish More People Would Read
When I was coming up with my answer for this one, I was scouring for books that have less than 1,000 ratings on Goodreads. Surprisingly, a lot of books I enjoyed do but not The King of Bourbon Street. This is a book I read for smutathon and it follows a romance between a guy who owns a hotel chain and an heiress. This book was super steamy but also featured such a lovely romance and was my favorite read of smutathon. With less than 550 ratings, I knew this one had to be it.
The Best Book I Read In A Different Format
If you've been following my blog, then you know that I loved The Right Swipe. It's a romance between two people who work for competing dating apps and this was honestly SO amazing. It had an incredible romance but also talked about other topics such as grief, ghosting, and football. Honestly, this book made me SO happy and I couldn't believe how much I loved it. I read this book physically which I never do and I'm super excited that I bought this one.
The Book That Took You The Longest To Read
In looking back on my Goodreads shelf, the book that took me the longest to read was Cress by Marissa Meyer. Maybe it's because it was the 3rd book in the series but I struggled to get through this book. Considering that I love Cress as a character though, it's a bit surprising. Either way, this is the book that took me the longest to read.
The Most Meaningful Book You Read In 2019
At first, I was going to go with another book but then I saw this on my shelf. For me, this book was an absolute lifesaver. After I got broken up with earlier this year, I decided to pick up this book via a recommendation. Boy am I glad I did because this book really helped me. It made me feel a lot better and put me in a better headspace. Honestly, I don't know how well I would've dealt with my breakup without it.
The Book I Am Most Likely To Re-read In The Future
For this one, I decided to go with 10 Blind Dates. Even though I read this book earlier this month, I fell in love with it. It follows a girl who gets broken up with and to cheer her up, her family sets her up on 10 blind dates. This book also focused on family, friendship and finding yourself after a relationship ends. Since it's such a festive Christmas book though, I can see myself reading it next year.
The Book You NEED Other People To Read!
For the books I wish everyone would read, I'm going with a series and that's the Hoops series by Kennedy Ryan. While I read the first book in 2018, I finished the series in 2019 and it's one of my new favorites. This book focuses mostly on professional basketball players but also on two sports agents in book 2. Overall, these books are emotional yet still heartwarming and are unlike any other sports romances I've ever read. If you're looking for a sports romance with a bit more depth, then you need to read this one.
The Biggest Surprise (good or bad) You Read This Year
The biggest surprise for me was Famous in A Small Town by Emma Mills and honestly, this book was a bad surprise for me. I didn't end up loving it as I hoped and I think this book was a major miss. The story just never took shape for me and I don't think that the plot-twist at the end was all that great. Neither was the romance or the friendships so it was a major disappointment for me.
The Best Book-to-Movie/TV adaptation You Read in 2019
For this one, I'm going with Shrill. I read Shrill earlier this year before the show came out and honestly, it was such a quick yet entertaining read. I did enjoy a lot of the topics that Lindy West covered and it makes me all the more excited to read her second book. Plus I really loved the adaptation that Hulu did so that was a plus.
A Book You read because Someone You Trust LOVED it!
For this one, I'm going with Pride by Ibi Zoboi. I know that I've mentioned Jav a few times but she plays in my fantasy football league and we also follow each other on Instagram where she posts bookish things. I saw that she was reading this and gave it a good rating so I decided to pick it up. Thankfully, it was exactly the push I needed as I ended up enjoying it too and gave it 5 stars.
A Favorite "New-To-Me" Author You Discovered in 2019
If you've been following me for a while, then you'll know that I fell in love with Rebekah Weatherspoon this year. I've read a ton of her books and I am almost completely caught up on her backlist. She writes diverse romances with WOC as the MC besides one of her future books and honestly, these books are such healthy romances. She also isn't afraid to go the extra mile when it comes to sexy scenes. She's also written some f/f romances along with her m/f romances. If you're looking for a new romance author, then I'd highly recommend Rebekah Weatherspoon's books.
A Book in a Different Age Group or Genre to your Usual Preferences, that you read this year and LOVED
I'm not a big middle-grade reader but this year, I finally picked up One Crazy Summer which my mom read with her old class. This book was incredible as it was set in the late 1960s and followed three sisters going to visit their mother who is part of the Black Panther Party. Honestly, this book was such a surprise and talked about a ton of different topics including racism, family, and misconceptions about the Black Panther Party. Honestly, this was just wonderful and I might read the next book in the series.
Your Favorite Book cover of 2019
The Worst Book of 2019
For me, the worst book I read in 2019 was Kissing Tolstoy by Penny Reid. This book was just so insufferable and hard to get through. It would have been nice if the sexy times were rewarding but they weren't. Ugh, this book was just a mess all around and I feel like I wasted my life, reading it. Before I move on though, I wanted to include some honorable mentions for my worst books: The Friend Zone, Mammoth and A Night To Surrender.
The Best Book of 2019 
Do we really need to get into my thoughts on this one? Earlier this year, I predicted that this would be my favorite book of the year and nothing has surpassed it. Even though I haven't read the 3rd book in the series, I don't know how it could beat this one. I will give it a fair chance but this book was a delight as it talked about a side character from the first book. Overall, it was a great second-chance romance and I absolutely fell in love with it as soon as I picked it up.
---
That was Ellyn's book awards! Hopefully, you enjoyed this post if you got this far because this was a pretty long post lmao. Hope you're having a nice holiday season as well ❤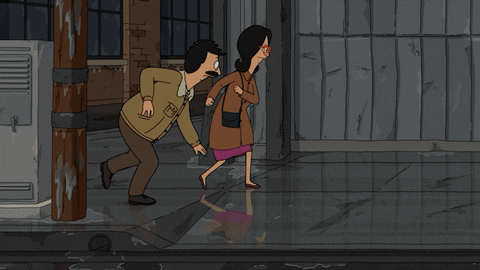 Find me on Twitter & Goodreads