Hello friends and fellow Christmas lovers! When coming up with a book to review, I had a few options as I've read a few Christmas books. Of all the ones I've read though, one of my favorites is 10 Blind Dates by Ashley Elston. Considering how much I enjoyed it, I decided to write up a review of it before Christmas. Maybe you'll even add it to your list for Santa 😉
This is my spoiler-free review of 10 Blind Dates by Ashley Elston!
Sophie wants one thing for Christmas-a little freedom from her overprotective parents. So when they decide to spend Christmas in South Louisiana with her very pregnant older sister, Sophie is looking forward to some much needed private (read: make-out) time with her long-term boyfriend, Griffin. Except it turns out that Griffin wants a little freedom from their relationship. Cue devastation.
Heartbroken, Sophie flees to her grandparents' house, where the rest of her boisterous extended family is gathered for the holiday. That's when her nonna devises a (not so) brilliant plan: Over the next ten days, Sophie will be set up on ten different blind dates by different family members. Like her sweet cousin Sara, who sets her up with a hot guy at an exclusive underground party. Or her crazy aunt Patrice, who signs Sophie up for a lead role in a living nativity. With a boy who barely reaches her shoulder. And a screaming baby.
When Griffin turns up unexpectedly and begs for a second chance, Sophie feels more confused than ever. Because maybe, just maybe, she's started to have feelings for someone else . . . Someone who is definitely not available.
---
Originally, I was going to participate in Tis-The-Season-A-Thon. For some reason, I had trouble with the challenges so I decided to throw the towel in. That doesn't mean that I didn't read a handful of Christmas books, though. The first one I finished in December was 10 Blind Dates by Ashley Elston so I knew I had to review it.
What I enjoyed about 10 Blind Dates
The concept. Before I start talking about other things, I need to talk about how amazing and hilarious this concept is. Who wouldn't want to go out on 10 blind dates after a breakup? That would be seriously fun especially if you were 17 like Sophie is.
The characters. One of the major parts in this book is the impressive amount of characters crammed in here. Of course, there's Sophie, her ex, her immediate family and then the rest of her HUGE family. Somehow, Ashley Elston never makes any feel less important than the other and you really come to enjoy all of them.
All of the family moments. While this book does focus a lot on Sophie and her dates, it's every bit as much about family, too. Whether it be Sophie's immediate family like what her sister's going through or her Nonna and cousins, everything about this book felt so homey. I don't have a huge family but I definitely could feel the love in Sophie's family.
The romance. Of course, I'd be remiss to not talk about the romance. This book featured one of my favorite tropes but I won't spoil anything. The romance was so wholesome and sweet. It had me smiling so big especially at the end and I'm glad that things worked out the way they did.
It was a quick read. Arguably what I loved most was how quick of a read this was. Maybe it was just because I got a headstart at work but I read this book in 3 sittings but nothing every felt too fast-paced. The pacing was great and this book was just entertaining that I couldn't put it down.
What I didn't enjoy about 10 Blind Dates
Not very smooth transitions. One thing I noticed while I was reading was that the book didn't transition very well. Maybe it was just me, but I think that it could have been a little bit smoother. We'd hear something about the dates and then go straight to Sophie, talking to her sister. It was a bit jarring.
Griffin. No surprise that I didn't enjoy Sophie's ex, Griffin. While I understand why Elston wrote him how she did, I just didn't think he was that necessary. I think he would've been better kept in the breakup scene and disappeared. Either way, I didn't think he really furthered the plot at all.
---
Overall, there wasn't much I disliked about 10 Blind Dates. This book truly felt like a nice warm hug. I had a hard day at work when I read this and it immediately put me in a better mood. If you're looking for a YA romance set during Christmas, then you have to read this before 2019 ends!
I gave 10 Blind Dates 5 out of 5 stars!
Have you read 10 Blind Dates? Did you enjoy it or have any other Christmas romances to recommend? I'd love to know in the comments!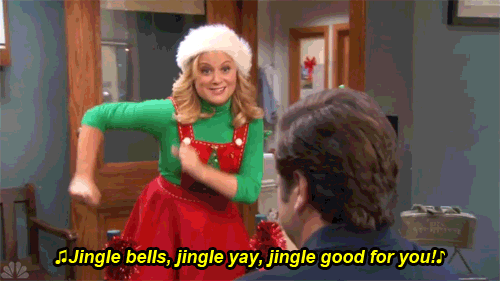 Find me on Twitter & Goodreads