Hello friends and fellow book lovers! Welcome to my belated November Wrap-up. At first, I was going to post this on December 1st but I knew that I still had a book out from the library that I was going to finish right before then. Either way, I'm still getting it up so I can't really complain. Lol
Looking back at November, I had an excellent reading month. In November, I read 14 books and I have to say that I enjoyed almost all of them. I don't think that I gave anything under 3 stars so that's good news. With that being said, let's get into the 14 books I read in November!
1, 2 and 3. Pride, A Very Large Expanse of Sea and A Heart in a Body in the World
The first 3 books I read this month, I did mini-reviews of. If you want to know my in-depth thoughts about them, then be sure to check that post out.
4. Block Shot (Hoops #2)
The next book I read was Block Shot which is the second book in the Hoops series. This book follows the love interest's stepbrother from the first book and the romance he has with a rival agent. This book was a hate-to-love second chance romance and honestly, I thought it was really good. I loved all the sports talk, how sexy it was and how much Jared was willing to give up for Banner. What I didn't love was the cheating aspect as I think the book would have been better without it. 4/5 stars.
5. A Lesson in Thorns (Thornchapel #1)
This was easily one of the most hyped books on Booktube and honestly, I didn't get it. I know that everyone talked about how sexy it was. For me, I think that the book had too much exposition tog et up to the sexy stuff. Maybe I just didn't realize how long it would be until we got to that but this book felt like a snooze fest. While it was pretty good smut, I wouldn't say it was the best of the best. Overall, this book fell flat with its characters, their relationships and the smut. 3/5 stars.
6. Dirty Little Secret (Forbidden Desires #1)
I set a little challenge for myself to clean out some of the books on my Kindle and this was a free one that I found. I've never read anything by Kendall Ryan so I was a little bit skeptical. This book follows our MC Emma who harbors a secret crush on a guy who goes to the same coffee shop as her and it's basically how they meet and she ends up getting embroiled in his business.
While I did think this was some pretty good smut, I didn't love the romance. I thought Emma was better suited to Gavin's brother. I know that he gets a book but I wish those two would have gotten together. Either way, this was just an okay read. 3/5 stars.
7. Know My Name by Chanel Miller
I put a hold on this book almost immediately after it came out. If you didn't know, this book is a memoir by Chanel Miller who was sexually assaulted by Brock Turner. I honestly had no idea what this book was going to cover. However, I was surprised by how much Chanel was willing to share and the courage she had in sharing her story. It was such a powerful read and one that I'd highly recommend reading.
I only wish that the book wouldn't have jumped so vastly from topics. One second, we were hearing about the case and the next, we were hearing about her childhood. It was a little bit jarring but other than that, it was an excellent read. 4/5 stars.
8. Bittersweet (True North #1)
This was another book that was free on Kindle so I snagged it. This is the first book in a series of companion books, following side characters. This book follows our MC Audrey as she gets sent on a work trip to an old hookup's farm and it's basically the two of them reconnecting. While I thought this was a cute and fun read, I didn't really think that anything about it was high-stakes. It was more of just a fluffy and fun romance which was nice but I would've preferred a bit more depth. 3/5 stars.
9. Royal Holiday (The Wedding Date #4)
I put a hold on this even though I haven't really loved any of Jasmine Guillory's books and this one was no exception. This book follows the MC from book 3's mother and the romance she has with a royal employee. Overall, I thought this book was cute albeit not as steamy as the others. What really annoyed me was the conflict between the two characters who were well past playing childhood games with each other as the man refused to talk about his feelings.
Maybe it's something about how Guillory writes the conflicts between the couples, but it always ends up annoying me. I really should give up on her books but they're addicting so we'll see what I decide. 3/5 stars.
10. Breaking Dawn (Twilight #4)
I really don't have much to say about this book. Ellyn and I reread the entire series together and we're just over it. It was just okay and that's pretty much it. 3/5 stars.
11. Hook Shot (Hoops #3)
For the weekend round of the Contemporary-A-Thon, I decided to pick up Hook Shot and honestly, what a great decision. Of all the books in the series, this one is my favorite. This book follows the cousin of the MC in book 1 and the teammate of her husband. Hook Shot featured such an incredible romance between Lotus and Kenan who I was rooting for immediately. It was so sweet to see that their age gap didn't define them and that the two would able to overcome almost all of their issues as a couple. It was just so refreshing to see in romance.
The only thing that annoyed me was how overdramatic this book felt. Somehow, Kennedy Ryan always has to kick you in the gut at least once. This book had multiple moments like that and it was a bit tiring. By the end, I was just ready for this book to wrap up and have a happy ending lmao. 4/5 stars.
12. Her Naughty Holiday (Men at Work #2)
This month, I moved on to the next book in the Men at Work series and this one centers around Thanksgiving. This time, it's between Clover, a 30-year-old and Eric who she uses as a fake boyfriend to get her family off her back. Honestly, this book was such a delight as it was both smutty while still being sweet. Plus it's rare to read a Thanksgiving romance so this was the perfect read for a Sunday night. Even though Thanksgiving is over, I'd still highly recommend it. 4/5 stars.
13. Get a Life, Chloe Brown (The Brown Sisters #1)
The next-to-last book I read in November was Get A Life, Chloe Brown by Talia Hibbert. I read one of her Christmas novellas last year and didn't love it. While I heard a bit of hype around this book, I didn't know what to think. However, this book ended up being a favorite for me and a major surprise.
This book follows our MC Chloe who after dealing with a near-death experience decides to branch out and make a list so she can "get a life." Along the way, she starts up a friendship and maybe more with Red who works in her building. Honestly, this book was such a delight and I really loved their chemistry, the sexy moments and basically everything about it. 5/5 stars.
14. Wrapped (Fit Trilogy #3.5)
In my Top 5 Tuesday post, you'll notice that I brought Rebekah Weatherspoon and how I've been reading her backlist. This is the final book in the Fit series and it's easily my favorite of the series. It follows the cousin of the MC of the last book and honestly, this was such a delight. Somehow, it ended up being exactly what I wanted and everything about it put me in a Christmas mood. It was a sexy, sweet and short novella that's perfect for the holiday season. 5/5 stars.
---
Those are the 14 books I read in November! Personally, I plan on reading at least 9 books in December so I can read one more book than I read last year. Last year, I read 150 so I plan on reading at least 151 this year. Overall, I'll just be happy to get through the mountain of Christmas books I saved up until this point. 🙂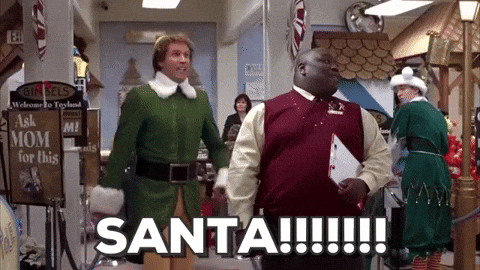 Find me on Twitter & Goodreads