Hello friends and fellow book lovers! For the first of two "My Favorite" prompts, we're talking about our favorite Christmas reads. I left this one kind of open as there's a lot of different ways to interpret this. Whether it's a book centering around Christmas or one that you always read during Christmas, this one is basically open-ended. For me, I had to think about it before I came up with my answer.
BookishlyRebecca is now the host of the "My Favorite" meme, a weekly meme posted on Wednesday. Originally started by Maureen's Books, she agreed to let me take over.
As Maureen described it, "In this meme, we share every week something we love with each other. Because let's face it. The world can be a dark place and it's to share something positive. Each week I will post a new My Favorite.. post about one subject and I'll tell you all about it. And the best part? Everyone is welcome to join. The only thing you'll have to do is sign up on my weekly post, link back to this post and visit others."
At the end of each month, I'll post the prompts for the following month so be sure to check back then!
---
As I said, this one was a little tough for me. At this point, I have tons of Christmas books I want to read so I couldn't put them on this list. Instead, I'm going to go with a book that I loved reading when I was a kid. While this might not be a traditional Christmas read, it's really fun and cute so I really enjoyed reading it.
I remember reading Olive, The Other Reindeer when I was younger and loving it. I think it's such a cute story in which we see Olive get confused and eventually, find a way to help out Santa. Overall, this one is super sweet and I might have to revisit it this year. 🙂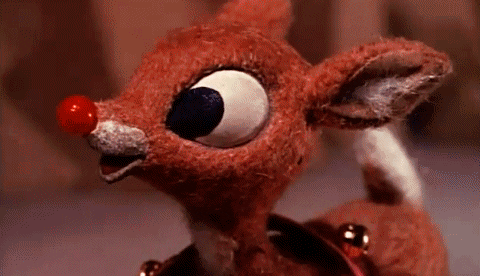 Find me on Twitter & Goodreads