Hello friends and fellow TV lovers! For this week's prompt, I decided to pay homage to Thanksgiving. I know that it's Thanksgiving in the US which is where I'm from but I'm sure others wouldn't mind if you aren't from the US. Plus there are a ton of great Thanksgiving-themed episodes to talk about so more than likely, your favorite show has celebrated Thanksiginv at some point.
BookishlyRebecca is now the host of the "My Favorite" meme, a weekly meme posted on Wednesday. Originally started by Maureen's Books, she agreed to let me take over.
As Maureen described it, "In this meme, we share every week something we love with each other. Because let's face it. The world can be a dark place and it's to share something positive. Each week I will post a new My Favorite.. post about one subject and I'll tell you all about it. And the best part? Everyone is welcome to join. The only thing you'll have to do is sign up on my weekly post, link back to this post and visit others."
At the end of each month, I'll post the prompts for the following month so be sure to check back then!
---
No surprise when it comes to my favorite Thanksgiving TV specials as it has to be the Bob's Burgers Thanksgiving episodes. Since Thanksgiving is Bob's favorite episode, they always have some magic dusted on them. While I won't rank them, I will tell all of you which one is my favorite and it's "Thanks-hoarding." For some reason, there's something I love about the Belchers and Teddy spending Thanksgiving together.
I do love all of the Bob's Burgers Thanksgiving episodes, though. I figured I'd include some honorable mentions of other Thanksgiving episodes I love. There's the classic "Slapsgiving" from How I Met Your Mother, all of the Brooklyn Nine-Nine Thanksgiving episodes and "Thanksgiving" from New Girl.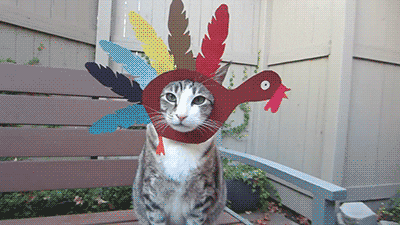 Find me on Twitter & Goodreads