Hello friends and fellow Netflix lovers! For this week's prompt, I kind of steered away from the Halloween prompts and went with something random. I decided to make this week's prompt about our favorite Netflix originals. Personally, I really enjoy Netflix originals even though I don't watch Netflix that much.
BookishlyRebecca is now the host of the "My Favorite" meme, a weekly meme posted on Wednesday. Originally started by Maureen's Books, she agreed to let me take over.
As Maureen described it, "In this meme, we share every week something we love with each other. Because let's face it. The world can be a dark place and it's to share something positive. Each week I will post a new My Favorite.. post about one subject and I'll tell you all about it. And the best part? Everyone is welcome to join. The only thing you'll have to do is sign up on my weekly post, link back to this post and visit others."
At the end of each month, I'll post the prompts for the following month so be sure to check back then!
---
This one was tough as I like a lot of Netflix originals. However, my favorite Netflix original has to be Big Mouth. I know this series isn't for everyone, but I personally really love it. I think it's a lot of fun and shows the realistic side of being a teenager. Since I'm on vacation, I plan on watching the 3rd season as it's just recently been released.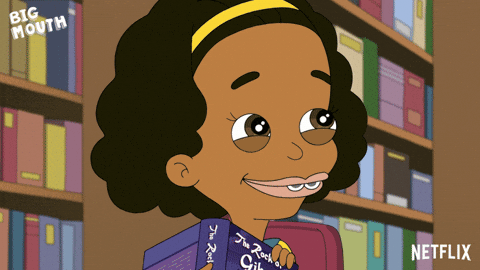 Of course, I have to throw in a couple honorable mentions, though. There's To All The Boys I've Loved Before which is obviously a huge bookish fave. Then there's She-Ra and the Princesses of Power, Dear White People, Dumplin' and Someone Great. As you can see, my tastes on Netflix are mostly all over the place. lol
Find me on Twitter & Goodreads