Hello friends and fellow Jonas Brothers lovers. If you didn't know, my Jonas Brothers concert is tomorrow and I AM HYPED. Even though I'm writing this post early, I'm still in that mindset. When I started writing up my schedule for this month, I knew that I had to put up a post before the concert. Thankfully, I had a lot of ideas and things I wanted to talk about.
However, for my post before the concert, I wanted to do something unique. If you're not a Jonas Brothers fan, you might not understand the title. I am here to be your guide if you're unfamiliar. In the middle of every show, the brothers do a "fan request" which I believe is where fans yell out a song and they decide to sing it. That's the basic gist but I've heard conflicting stories.
Either way, it's basically where they sing a song that's not on the setlist. It's basically their chance to give the fans what they want and make the show more interactive. For my post, I decided to feature the top 5 songs I'd like for them to sing as a fan request. I'd like to give a small disclaimer and say that I'm writing this post early so if they sing them, it's my bad. Lol but let's go!
---
5. Games
Unsurprisingly, I already sent this list to a friend so I already had it planned out. Coming in at #5 is Games, a song from the Jonas Brothers self-titled album. As far as songs go on the album, this one is severely underrated. I know that a lot of fans say that it's nostalgia glasses, but I really do think that this album is one of their best.
I think Games does a great job of showcasing Joe and Nick's voices along with doing some different things with the beats and pitches. Hopefully, I know what I'm talking about. Lmao, either way, I'd like to see a 2019 take on this song.
4. 6 Minutes
When I'm posting this, the boys have only sung one song from It's About Time, their debut album. This album is incredibly rare and is one that fans will hunt for because they want their very own copy. Thankfully, you can now buy the entire album on iTunes so everyone can own it in a way.
One of my favorite songs from the album is 6 Minutes and this is a case of it not being an actual song written by the Jonas Brothers. This song was originally recorded by LFO but I love the Jonas Brothers take on it. It's a Joe-heavy song as most of the songs on my list are and I'd like to see how the boys would sound, singing this as they haven't in many years.
3. Much Better
As you can tell, I'm trying to pick a song from each of their albums besides their new one as they'll be singing a ton of those songs. I'd go as far to say that this entire album is underrated as the Jonas Brothers were coming off 2 majorly successful years. Lines, Vines and Trying Times was their first real "experimental" album and one that I know isn't everyone's favorite.
Thankfully, the album has a lot of bops and one that I particularly enjoy is Much Better. If you followed the drama, then you know this song is based on Joe's relationship with Taylor Swift. By today's standards, he would be throwing some major shade but I think this is a pretty polite breakup song and one that doesn't get enough love. I especially love the vocals in this and the lyrics are just everything.
2. BB Good
I distinctly remember listening to this song a lot when the album came out. If I'm remembering right, A Little Bit Longer started out with this song. However, it never seemed to get as much love as it deserved. Rather, the album was known for hits like Burning Up and Lovebug which is great songs.
There was just something about BB Good that felt different. It felt like a more mature song but would be considered tame now. Regardless this song was just unlike anything I've heard from them before and I LOVED it. As per the other songs, I'm pretty sure that Joe was the only one who sang on this one and I absolutely die for that. Lmao
1. Hollywood
If I had to pick one song that I'd DIE to hear as a fan request, it's Hollywood. If you're sensing a theme, then you're right. This song is severely underrated and I think it's one that they haven't played since their 2007 tour. Honestly, I wish that this song was getting as much hype as their others because it's just glorious.
I'd love to see if they change the lyrics or keep them the same. A 2019 version could be completely different and I'd like to see that. Since they're only doing one fan request, I'd love it if they decided to do this song!
---
Those are my top 5 #HappinessBegins Tour fan requests. Hopefully, by the time my show happens, they haven't sung these. If they have, then it's on me. Lol
Would anyone like to see a post about my concert? I'd be happy to do one if you're planning on going to see them or if you're looking for tips about the Hershey Park stadium. Either way, I'm just so EXCITED that a post is pretty much inevitable at this point. 😀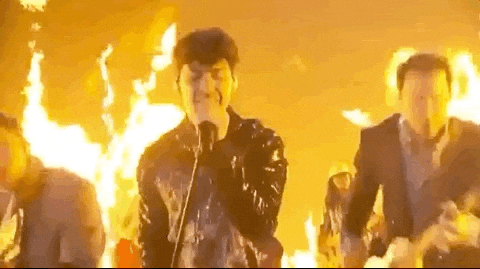 Find me on Twitter & Goodreads