Hello friends and fellow Jonas Brothers lovers! For my Friday post this week, I wanted to do something a little different. In honor of the Jonas Brothers released their first new album in a decade, I wanted to pay homage to it. Additionally, the band has the no. 1 album on the Billboard 200 and I couldn't be more proud. It's so odd to think that I've loved them for over 10 years of my life.
As much as I love the album, I definitely have some favorite songs. Before I get into this ranking, I'd like to happily say that each song is good on its own. It's clear they put a lot of time, effort and love into Happiness Begins. I'm just so happy that they're back so what better way to show my appreciation?
I know a majority of my followers probably aren't Jonas Brothers fan, but I implore you to check this album out. It has that same feel of a Jonas Brothers album while still being something new for them. It might surprise you 🙂
---
5. Sucker
I'd be remiss to not include Sucker on this list. This song is what brought the Jonas Brothers back to us. Additionally, it's one of the standout songs of the album and a clear love letter to all of their wives. One of my friends at work called it the best from the album and I have to agree plus it's an incredibly successful one to boot. I always get a smile on my face as soon as I can hear the opening notes of it.
4. Don't Throw It Away
I haven't really heard anyone talking about this song and that's fair. In comparison to other songs, this one isn't that exciting. The entire premise of the song is about a couple possibly breaking up and the guy wanting the girl to think before she acts. I'm sure that's something that most of us can relate to. With a runtime of just under 3 minutes, it's just a pretty short song but one that has a nice beat and will have you wanting to dance while you're listening.
3. Strangers
This is another one that I don't hear many people talking about. Strangers is a hard song to describe, but I think it's about meeting someone new and feeling an immediate connection with them. What I love most about this song is that Joe and Nick sing on the chorus together which is basically a recipe for success. Their voices just blend well together and I can't help but love it.
2. Rollercoaster
Looking at the album as a whole, this is a song that a lot of people love and I completely agree. This song can be interpreted in many different ways as some see it as a reflection of their love for the brothers, a past relationship or just looking back at the past. For me, it's a mix of all three and that's why I love it so much. This song makes me feel happy, sad and hopeful all at once.
Whenever I hear it, I just want to scream sing it. Rollercoaster is a song that I loved immediately upon hearing it and I haven't stopped since.
1. Used To Be
As most of my followers know, I've been dealing with a breakup. For the most part, I can say that I'm over it but I do have some moments where it hits me hard. This song, in particular, has been my favorite of the album because of that. This song talks about dealing with a breakup and how you're not in love with them anymore but you'll always have that connection. Even though we haven't talked since it happened, I relate to this song so much.
I don't know if it's just the lyrics or what, but I fell in love with this song. I know I won't be for everyone, but it just spoke to me immediately. Plus Joe sings a lot in this one and everyone knows that Joe is my favorite brother. Guess I'm just predictable in that department lmao.
---
If you're a Jonas Brothers fan, I'd like to know your top 5 favorite songs. I think the main reason I love this album is that everyone has different faves. Every time I talk to someone, they have a different favorite song and I LOVE that.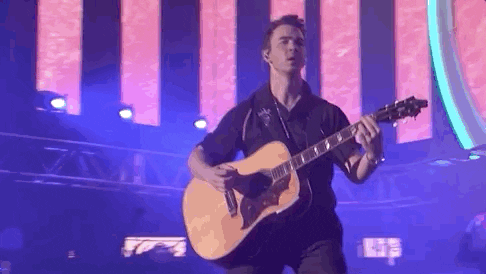 Find me on Twitter & Goodreads