Hello friends and fellow Jonas Brothers lovers! I just want to apologize if you see me acting crazy on social media. I'm prewriting this post, but today is the day that the Jonas Brothers new album comes out. I've been thinking about it since it was announced and it just feels surreal to me. Lmao
That being said, I wanted to do a post in honor of that. Last month, I wrote up a post about my 10 Favorite JB Songs. I wanted to do an album review, but I'll probably do one of those later. I want to listen to the album fully and be able to formulate a well thought-out review.
Instead, I'm going to talk about how I got Jonas Brothers tickets for their Happiness Begins tour! You're all in for a wild ride so let's get into it.
---
If I'm remembering it correctly, the Jonas Brothers posted their tour announcement on May 1st and I legit screamed. I was so happy and excited that I screamed at work. I had waited for years to go see them again and this time, I was going to be able to buy them myself. It was exciting lmao.
In the following days, they released this "Verified Fan" presale thing on Ticketmaster which I signed up for. I signed up for it, not thinking that I would be picked. The concert gods were looking out for me as I was picked to buy tickets on May 8th as part of that presale. Unfortunately, that meant I was going to have to buy tickets at work.
I worked at 9:30 and the presale started at 10. I did a little bit of work until 10 and then went back to the breakroom. I set up my laptop, got connected to the internet and got in the queue for tickets. Unfortunately for me so did 2,000 other people. I sat back there for about 10 or 15 minutes before I was finally moving up to the line.
Once I got to the front of the line, I immediately started panicking. I needed to enter my code, find the section I wanted and get seats I thought were decent. After a bit of panicking, I was finally able to snag 3 tickets for me and my two oldest friends. They aren't super close but my friends stressed not getting anything on the floor so I'll insert a pic below.
As far as buying tickets go, it wasn't very complicated. I know other people had trouble but it was a breeze for me. I was able to get in, get the 3 tickets and get out within a matter of 30 minutes. If I end up going to see them again, I'll definitely try to get another Verified Fan presale code. It made my life so much easier.
This is the part of the post where I start using exclamation points. In addition to getting tickets to the concert, I'm also MEETING THE JONAS BROTHERS!!!!!!!!!!!!!! Friends, I have been waiting many years of my life to say that and it's finally happening. As for the m&g site, that was an absolute mess but I was able to snag them and now, I'll be meeting them.
Honestly, I feel like the Jonas Brothers getting back together has been my favorite part of 2019. Dealing with my breakup is rough but they make it better. I know that most people would say that they're just some boyband, but they're so much more to me. I honestly don't think I could've gotten up in the morning sometimes if it wasn't for them. That might sound sad, but it's true.
Regardless, I'm going to see them. I'm going to hug them and tell them how much I love them. That's been one of my bucket list items and I can't believe it's happening. 2019 has been a hard year for me, but just those two things are going to make me so incredibly happy.
Probably not the most exciting storytime, but one I wanted to share 🙂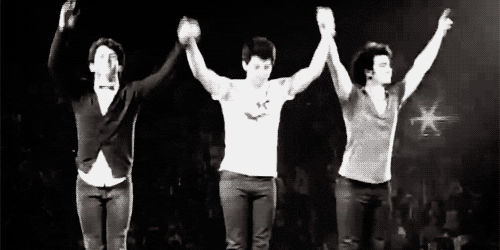 Find me on Twitter & Goodreads