Hello friends and fellow boy band lovers! This month's round of prompts is all about boybands in honor of the Jonas Brothers releasing their new album. I know this probably isn't for everyone, but I'm excited so here we are. Without any further intro, let's get into this week's topic. 😉
BookishlyRebecca is now the host of the "My Favorite" meme, a weekly meme posted on Wednesday. Originally started by Maureen's Books, she agreed to let me take over.
As Maureen described it, "In this meme, we share every week something we love with each other. Because let's face it. The world can be a dark place and it's to share something positive. Each week I will post a new My Favorite.. post about one subject and I'll tell you all about it. And the best part? Everyone is welcome to join. The only thing you'll have to do is sign up on my weekly post, link back to this post and visit others."
At the end of each month, I'll post the prompts for the following month so be sure to check back then!
---
If you've been following me for a while, then this is no surprise. My favorite boy band is easily the Jonas Brothers. I've loved them since I was middle school age and I've been talking about them non-stop since their reunion. With their album coming out on Friday, I'm even more hyped.
I also didn't mention this before now, but I'm going to see them in concert. It's August 31st in Hershey, PA and I'm so happy!!!!! I'll have a post, talking more about it on Friday but this one was a no-brainer for me. I feel like I've been waiting forever for them to get back together or release music or do anything. This just feels like a dream! Lol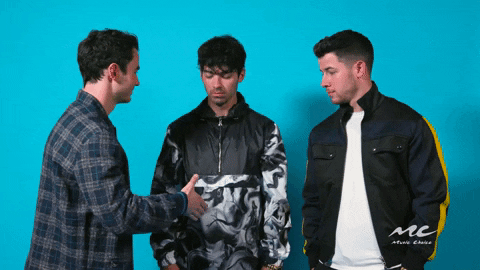 Find me on Twitter & Goodreads