Hello friends and fellow book lovers! When you're reading this, I'll be on my vacation so that's exciting. Regardless, you're not here to talk about my vacation. You're here to find out about all the books I read in March. I kind of wanted to try something different this month but I couldn't really think of anything.
1. Mammoth by Jill Baguchinsky
I actually finished this after I wrote my February wrap-up and it was my last February read. I finished it on February 28th and this book follows a girl who is a plus-size fashion blogger who gets a chance for a paleontology scholarship. As much as I wanted to love this, this book was just terrible. I hated the character, the romance and how the MC constantly had to remind us that she was fat. I just wish the author wouldn't have focused on that and rather on her other interests. 2/5 stars. 
2. Cress (Lunar Chronicles #3) by Marissa Meyer
The first book I finished in March was Cress. Ellyn and I are making our way through this series and I can't believe we only have one book left. As the third book, I can't talk too much about it but it introduces us to a new character and I really enjoyed her. It carried on with the series and I think it helped set up a hopefully amazing finale. 4/5 stars. 
3. Goldie Vance Vol 4 by Hope Larson
This month, I continued on with the Goldie Vance series and I really enjoyed it. It was an entirely new mystery but still had the charm of the previous volumes. I think this is the latest volume released so I'm officially caught up with this series. 4/5 stars.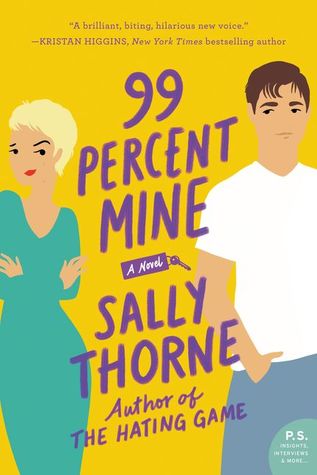 4. 99 Percent Mine by Sally Thorne
Ugh, talk about a disappointing read. I loved The Hating Game but this book just didn't do it for me. Even though friends-to-lovers is my favorite trope, I don't know but Sally Thorne made me dislike it. I think it's because Darcy was such an unlikable main character and I especially hated when her twin brother came into the picture. The only redeeming quality of this book was the love interest, Tom. He was so wonderful and he didn't deserve the crap the twins put him through. 3/5 stars. 
5. Always Never Yours by Emily Wibberley and Austin Siegemund-Broka
I got this book from the library and omg! I loved it. It follows our MC Megan as she gets the part of Juliet in her school play and how she deals with new friendships, another failed relationship and growing up. I loved that this book was sex-positive, didn't slut-shame Megan for having a lot of boyfriends,  had a wonderful love interest and used Shakespeare as the backdrop. I only wish that the book wouldn't have featured cheating. It would have easily been a 5-star read if there was no cheating. 4/5 stars.
6. Shrill: Notes from a Loud Woman by Lindy West
I saw my library had this available and with the show coming out, I took the plunge. This book is a collection of essays by West about being fat, working as a journalist and dealing with trolls among many other topics. This book was funny, eye-opening and uncomfortable all at the same time. It was also a quick read as her essays were relatively short and went by fast. I read this book in a few hours so I'd recommend if you're looking for a feminist non-fiction read. 4/5 stars. 
7. Fairest: Levana's Story by Marissa Meyer
I wrote a review of this so be sure to check that out to see my thoughts!
8. Killer Fashion: Poisonous Petticoats, Strangulating Scarves, and Other Deadly Garments Throughout History by Jennifer Wright
I saw that hoopla had this book so I decided to pick it up because it was short. It's a book all about clothes that have killed people. For each clothing item, I featured a funny picture about what happened, a short poem and usually a page about what kind of damage the clothing caused. It was a super fun and quick read especially since it could have been dry but I really enjoyed it. 4/5 stars. 
9. A Night To Surrender (Spindle Cove #1) by Tessa Dare
As Malanie put it, I did a small Tessa Dare read-a-thon. This was not by choice but all of her books I had on hold came off at the same time. Of all of them, A Night To Surrender was my least favorite. I didn't like romance or find the characters particularly well-developed. It's also the start of the series so it's setting up for future books and this one just wasn't for me. 2/5 stars.
10. The Governess Game (Girl Meets Duke #2) by Tessa Dare
Talk about a complete 180 as I loved this book. This book follows one of the side characters from book one Alexandra and the romance between her and a guy she meets at the book store. This book lacked everything my previous read did: great characters, an incredible romance, lots of sexy times and was a very cohesive read. This series is easily my favorite I've read of Dare's. 4/5 stars.
11. Say Yes To the Marquess (Castles Ever After #2) by Tessa Dare
This was my last Tessa Dare read of the month and it was okay. I read the first book in the series in December and forgot a lot about it. It lacked the charm of the first book but it wasn't a terrible read. It was pretty sexy, had a unique premise and featured a cast of charming characters. I might have enjoyed it more if I hadn't read 2 of her books right before but oh well. 3/5 stars.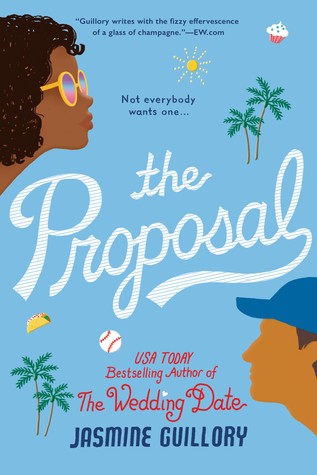 12. The Proposal (The Wedding Date #2) by Jasmine Guillory
I went on a day trip with my parents and ended up finishing 2 books. The Proposal is a companion to Guillory's debut, The Wedding Date as it follows one of the side characters and his relationship. While I prefer this book to The Wedding Date, I think the romance was a little sudden and the ending was just a little bit too perfect. I did enjoy it, though and gave it 3/5 stars.
13. On The Come Up by Angie Thomas
This was a library read that I finished all in one day and I'm surprised I managed. This book follows Bri on her journey to become a rapper and the aftermath of her song being released along with other events. I wouldn't say I'm a big rap fan, but I enjoy it and this book was a love letter to the genre. Bri was also an incredibly complex character who was just trying to make it in the world and it was hard yet rewarding to watch her.
As far as issues go, I felt like this book was entirely way too long and I wish we would have gotten more developed side characters. We did get some development but not enough that we really got to know them. However, this one was an awesome read. 4/5 stars.
---
Those are all the books I read in March. I'm writing this a little early since I'm going on vacation. At least I still think I'm going to be but we'll see. Either way, I don't plan on reading anything else in March. 🙂
What was your favorite read in March? I'd love to know!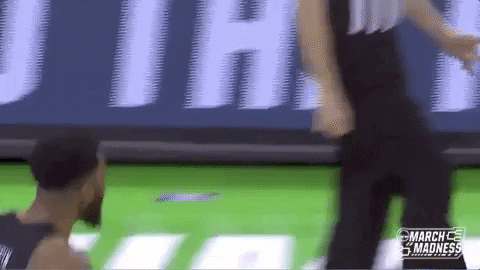 Find me on Twitter & Goodreads