Hello friends and fellow book lovers! Originally, I wanted to write a discussion post but it ended up being a jumbled-up mess. Instead, I decided to do a non-bookish post and with the recent Jonas Brothers reunion, this is the idea I came up with. I feel like I've only mentioned it once or twice on my blog but I stan the Jonas Brothers and I have for the last 10 years of my life.
I'm pretty sure I found out about them in 7th or 8th grade. From that point on, I was obsessed, in love and let's be real, I still am. Since their reunion, I've either been listening to their new song or been switching around between the old albums. As dumb as it might sound, I'm just so happy that they're back and they put me in a good mood every time I hear them sing, watch a video or do anything basically.
I love those boys with every fiber of my being. I will stan them until I DIE and even after, I will haunt people and sing their songs. Joe, Nick, and Kevin are so special to me and I honestly can't imagine my life without them. That sounds so crazy but they were such a BIG part of my life when I was younger.
In honor of their reunion, I thought I'd talk about my 10 favorite songs by them. I am what you would call a Jonas connoisseur. I have all of their albums including their 3D concert album and the special Bonus Jonas edition. I consider myself an expert in their music. However, I won't be including any "unreleased" songs even if they are bangers.
---
10. "Year 3000" from Jonas Brothers (2007)
I know what you're thinking. "Rebecca, you really put Year 3000 at #10??" Yes, I know but just hear me out. We all know that Year 3000 slaps but it's also one of their most famous songs and their most recognizable. Personally, I'm into their slower songs but I can admit that Year 3000 is the jam of the century. There's a reason why it's called Year 3000 because it's truly going to last that long.
I picked it as my #10 because it's one of their more fun songs. For me, this is one that I like to sing the shower or dance around to. Also, can we just talk about the hair?? Joe's especially (!!!!!!!!!!!!!!!!!) This video is really fun but it's also technically not their song as it's a cover of Busted. That's why it ended up being #10 on my list.
9. "Mandy" from It's About Time (2006)
If you're an OG Jonas fan, then you know the struggle of It's About Time. This was their first CD and it's almost impossible to get a copy of it. At the time of its release, it only sold like over 100,000 copies which are wild. Since then, fans have been clamoring for it and rightfully so.
Their first single from the album was "Mandy." Written about a family friend, the song is basically about how great Mandy is. Simple but it makes for such a catchy song. As previously mentioned, this was before they signed with Disney so it has more of a punk/rock feel than pop. I think this was the perfect single for them as it would have appealed to both their teen listeners and adults, too.
8. "Burnin Up" from A Little Bit Longer (2008)
Once again, I know you probably think I'm crazy for ranking this one as low but I'm not the biggest fan of their singles. However, I do think this song is a stand-out from A Little Bit Longer. Honestly, that album is probably my least favorite of theirs. Unpopular opinion, I know but it never grabbed me like the others. Doesn't mean I don't know all the words, though.
This song is such a quintessential summer song and every time I hear it, it puts me in a good mood. The video was perfect, the lyrics are perfect and JB is perfect. This was when they were at the peak of their fame and it's clear that Disney knew how big of a hit this song was going to be. Even though I look super white when I dance, I can't help but dance to this.
7. "6 Minutes" from It's About Time (2006)
If I had to pick a favorite from It's About Time, it would be 6 Minutes. One thing that many people might not know is that It's About Time is full of covers. 6 Minutes was a cover of an LFO song but for some reason, I fell in love with it. Probably because Joe sings a majority of it and I have been a Joe girl from day 1.
Either way, 6 Minutes is a song I always return to. They did a performance at a club or some MTV after-party and I rewatched it all the time. I hope it still exists because I'd love to rewatch it again. Once again, this one isn't an overly poppy song but rather a more punk/rock inspired one.
6. "Hello Beautiful" from Jonas Brothers (2007)
I feel like I don't even need to explain this answer because the title should tell you everything. This song is a slow-jam and it's basically a love letter they're writing to their long-distance girlfriend. if I had to guess, I'd say this was probably a Nick-Miley song but I don't really know.
Regardless, this song just makes me feel so gooey inside. It feels like they're singing directly to you and I'M BLUSHING. I used to love listening to this song before bed because it's so soothing. I especially relate to it because my boyfriend's in California and I miss him V MUCH so it's the story of my life. Thank you Jonas Brothers, praise bless.
5. "Sucker" (2019)
Since we're officially at the mid-point, I figured I'd feature their newest song. This song is so different from what they've done before. Despite how different it is, it's somehow better than anything they've ever done before. Regardless, I haven't formed a connection to it like with their older music. It did give us an entirely new Jonas Brothers era, though.
Sucker has everything I've always wanted in a Jonas song. Sex for one (just kidding!) I love their new sound, the lyrics, how mature their voices sound and just hearing them back together is amazing. Even though I'm not as connected, this song does mean a lot to me and I can't wait to see what songs they release next. Plus the video is everything I never knew I needed.
4. "Black Keys" from Lines, Vines and Trying Times (2009)
This album was their first foray into something other than the pop Disney sound. The album has some great songs, but my favorite is easy "Black Keys." I'm honestly not even sure what this song's about but I really relate to it for some reason. Maybe it's because I'm super insecure but it's an empowering song. 🙂
This is another one that's on the slower side and is soothing. Nick does take the lead in this one, but I don't mind. I think his voice suits this better than Joe's would so I can excuse it :P. Plus I remember really loving this song when I was younger and I could seriously listen to it all night.
3. "S.O.S" from Jonas Brothers (2007)
I'd be remiss to not include one of their best singles in the top 3. S.O.S. is arguably their biggest song of all time and the opening notes are iconic. At least I think so because every time I hear it, I know exactly what song's going to come on. It was the perfect song to introduce them into the world.
This was basically a break-up anthem and one that still holds up today. It's just so catchy and every time it comes on, I just want to scream. I mean that in the best way haha but I just love this song so much. It's also the first song on the album and what a way to start out!
2. "When You Look Me In The Eyes" from Jonas Brothers (2007)
I'll be completely honest here. I didn't love this song when it came out because everyone loved it. Honestly, that album slapped and the people in HS didn't even listen to the entire thing…just that one song. A musical tragedy if I'd ever heard of it but as I've grown up, I've come to appreciate and love this song.
This was one of the multiple love songs on the album, but it still sticks out. In a weird way, it kind of feels like an anthem for fans. As fans, we love them and have stuck through them with everything and this song feels like an answer to that. Plus the video is just amazing so how could I not love it??
1. "Just Friends" from Jonas Brothers (2007)
I know this is probably a controversial opinion, but this is my favorite Jonas Brothers song. For years, I've loved Just Friends and the song has never gotten the attention it deserved. It's a song about the boys being in love with one of their friends and it eventually becoming more. Hello 911, the Jonas Brothers STOLE MY LIFE STORY!!!!!
This is another one that isn't a super pop-heavy song and I just love everything about. I don't even mind how much Nick sings. I love the lyrics so much!!!!!!!!!!!!!! I just love this song so much and I don't even know how to describe it. It makes me so happy and I'm glad this song exists.
---
Those are my Top 10 favorite Jonas Brothers songs. Honestly, I could probably make this into a top 20 but I decided to challenge myself. I might have forgotten a few but oh well, these are the songs that I consider favorites right now!
Do you like the Jonas Brothers? If so, what's your favorite song by them?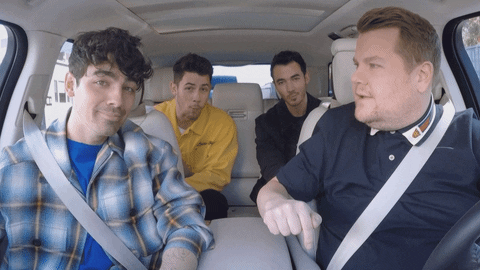 Find me on Twitter & Goodreads