Hello friends and fellow book lovers! This is my last post before I jump back into Top 5 Tuesday. I've missed it so much but I'm happy to catch up on my tag posts. Surprisingly, I have an even larger backlist to catch up on now. Either way, it's always fun to know that someone thought of me enough to tag me in something. 🙂
That being said, I was tagged for the Liebster Award by Jenna. If you aren't following Jenna, please fix that. Recently, she started making posts about bullet journaling and I've been living for them. She also talks about books, too so thank you so much, Jenna. 🙂
Rules
Acknowledge the blog who nominated you and display the award.
Answer the 11 questions the blogger gives you.
Nominate 11 blogs.
Notify those blogs of the nomination.
Give them 11 questions to answer.
---
1. What is the longest slump you've ever been in?
For me, I'd say like 2 years. After college, I couldn't really get back into reading since I was so used to doing it for educational purposes. However, I eventually got back into it and haven't stopped since. There's a lot of books you miss out on. Lol
2. Do you prefer ARCs or finished copies of books?
Finished copies! I don't actually get ARCs because I'm lazy and I already have a lot of ton to write about. I don't really like to add more responsibility to this blog since I consider it as more fun. Plus I already reviews TV shows and movies. 🙂
3. What is your favorite review you've ever written (not based on views/likes, but your feelings)?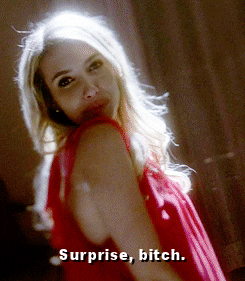 This gif is probably what anyone who ever reads my blog is thinking. Of course, my favorite review of Foolish Hearts by Emma Mills. I talked about how much I loved that book and Emma Mills in general. Basically, the start of Emma Mills being queen and that's always fun to revisit.
4. What was the last song you fell in love with?
Even though I don't personally relate to this song, it's just so catchy. There's something about it that I love. Maybe it's just the vibe but this song is such a bop.
5. What type of YouTube videos do you most commonly watch?
Booktube! Personally, I really enjoy wrap-ups, TBRs, and vlogs. It feels fun to see a little peek into someone else's life that you usually wouldn't get. If I'm not watching Booktube, I'm usually watching cartoon analysis videos or countdowns. Lately, I've also been liking those "Trying on size X" at stores videos because they're helpful and sometimes funny.
6. Do you have a favorite holiday? If so, why did you pick it?
I made a full post about this for "My Favorite." In that, I picked Christmas and I really do enjoy Christmas. There's just something about that time of year that puts me in a good mood. Maybe it's all the food, Christmas movies or everyone being together but Christmas is easily my favorite.
7. Be honest: have you ever bought a book mostly just for its cover?
Yes! However my biggest problem last year was buying a book that a booktuber I followed loved so I'd assume I'd love it. I learned that lesson the hard way and since then, I've been more conscious about what books I buy.
8. Do you like to keep your books pristine, or "live in" them with highlighters, tabs, annotations, etc.?
It all depends! Some books, I like to keep in good condition especially if it's a book by an author I love. However, there are lots of quotes that speak to me so I don't mind using tabs to go back to them. Basically, it all depends on which book it is. Lol
9. What is the most money you've ever spent on one book, and would you do it again?
I'm honestly not sure. I don't have a big collection by any means and most of them were anywhere between 18-22 dollars. I've been trying to clear my shelves and only have books on there that I really love.
10. Do you use any method to keep track of your TBR, like a TBR jar, spreadsheet, notebook, etc.?
Goodreads for the most part! However, I have a notebook where I keep the books I want to read in 2019. I haven't updated it since I made it but I really should. There's a lot of books I still haven't read that I want to. Thankfully, most are available via my library so I won't be spending an arm and a leg to acquire them.
11. Roughly estimate this one: how many more books can you fit on your current shelves before needing a new bookcase?
I would guess probably 50-70. With the books I've unhauled, I've been making a lot more room. However, I'm on a book buying ban so I'm trying not to fill them up 😛
---
Since I'm lazy, I'm not going to tag anyone! However, if you want to do this tag, feel free as these questions were super fun. 😀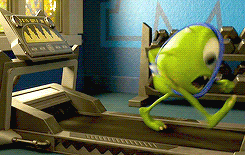 Find me on Twitter & Goodreads