Hello friends and fellow book lovers! It's been a long time since I've done a book review but it's 2019 and they're back. I'm not huge on reviewing books but I like to review at least once a month. It helps to break up all my memes and tag post so let's get into my review of Nice Try, Jane Sinner.
As per usual, I'm keeping my review style the same. I'm going to talk about what worked for me and what didn't. It's a pretty simple review style but one that I like. I've been talking about this book for months now and I finally picked it up almost a year after its publication date. Guess it's better late than never, huh?
This is my spoiler-free review of Nice Try, Jane Sinner by Lianne Oelke!
---
Publisher: Clarion Books // Released: January 2017
The only thing 17-year-old Jane Sinner hates more than failure is pity. After a personal crisis and her subsequent expulsion from high school, she's going nowhere fast. Jane's well-meaning parents push her to attend a high school completion program at the nearby Elbow River Community College, and she agrees, on one condition: she gets to move out.
Jane tackles her housing problem by signing up for House of Orange, a student-run reality show that is basically Big Brother, but for Elbow River Students. Living away from home, the chance to win a car (used, but whatever), and a campus full of people who don't know what she did in high school… what more could she want? Okay, maybe a family that understands why she'd rather turn to Freud than Jesus to make sense of her life, but she'll settle for fifteen minutes in the proverbial spotlight.
As House of Orange grows from a low-budget web series to a local TV show with fans and shoddy T-shirts, Jane finally has the chance to let her cynical, competitive nature thrive. She'll use her growing fan base, and whatever Intro to Psychology can teach her, to prove to the world—or at least viewers of substandard TV—that she has what it takes to win.
---
I'll give some general thoughts at the end because this book made me think a lot and there is so much to unpack with it. Without further ado, let's get into what I liked about Nice Try, Jane Sinner.
What I liked about Nice Try, Jane Sinner
Jane Sinner: The main character of the story is Jane Sinner and boy, I couldn't describe how much I loved her. She wasn't exactly a likable character but she felt real. Yes, she was cynical but she went through a lot of shit and didn't care who knew it. I just loved getting to know Jane and seeing why she did things she did.
The plot: As noted above, the entire plotline is about Jane getting on this reality show that's kind of Big Brother. Personally, I think that's a really unique concept and I think Lianne Oelke did a great job with it. She works in the film industry and it shows because this book was dramatic
The setting: Even though Jane's 17, this book takes place at a community college. It was refreshing to see something taking place other than high school. It also made for an interesting twist when the creator found out Jane's secret. I think college is such an underutilized setting in YA so I was happy with that.
The depth: As much as this story is plot-driven, there's also a lot of character exploration for Jane. She's dealing with depression and she's questioning her faith plus she's trying to graduate from high school. This book could have been just about the reality show but Lianne Oelke made it into so much more and I really appreciated that.
Carol: Carol is Jane's sister and she was easily my favorite minor character. She was a little younger than Jane but she was so supportive of her sister. Their relationship was so special and I loved almost every scene Carol was in. I especially loved how it came full circle in the end.
What I disliked about Nice Try, Jane Sinner
The length: My major issue with this book was how long it was. Most contemporaries are around 300ish pages, but this one was 420. I think Oelke could have cut some stuff out and the story would have been fine without it.
The plot twists: I really didn't like some of the "plot twists" in this book if you can even call them that. One of them was kind of shocking but the other was just gross and I couldn't believe it. It was so violating and just infuriated me.
Alexander Park: The show was created by Alexander Park and he was such a douche. The things he did for the show and how he acted annoyed me so I basically tried to ignore his presence as much as possible. Lol
---
Overall, I think Nice Try, Jane Sinner was an incredible debut. It exceeded my expectations in a lot of ways but just felt too long for me. I did enjoy it and I can't wait to see what Lianne Oelke writes next. I'm finally happy to say I read it, though! ❤
I gave Nice Try, Jane Sinner 4.5 out of 5 stars. 
Have you read Nice Try, Jane Sinner? If you did, what did you think of it?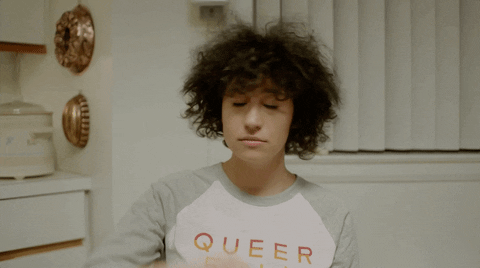 Find me on Twitter & Goodreads