Hello friends and fellow book lovers! It's hard to believe next week is Halloween and October is almost over?? I'm also kind of ready for Thanksgiving and for the year to be over. The sooner the year ends, the sooner I'll hopefully be visiting my boyfriend or vice versa.
Anyways, enough of the cheesy stuff! You came here for a My Favorite post and I'm here to give it to you. Similar to last week, this is probably going to be a long post so buckle up and let's get into my usual intro.
BookishlyRebecca is now the host of the "My Favorite" meme, a weekly meme posted on Wednesday. Originally started by Maureen's Books, she agreed to let me take over.
As Maureen described it, "In this meme, we share every week something we love with each other. Because let's face it. The world can be a dark place and it's to share something positive. Each week I will post a new My Favorite.. post about one subject and I'll tell you all about it. And the best part? Everyone is welcome to join. The only thing you'll have to do is sign up on my weekly post, link back to this post and visit others."
At the end of each month, I'll post the prompts for the following month so be sure to check back then!
---
Usually, I wouldn't limit myself here but this time, I am. I officially won't include any of the Bob's Burgers Halloween episodes as they're almost all my favorites. Instead, I'm going to talk about some other shows I enjoy. Obviously, I'd be remiss to not mention the Charlie Brown Halloween special as it's a classic so that's a given. The first one that came to mind was "Halloween Surprise." This was the Halloween episode for season 5 of Parks and Rec. The two things I remember about this episode are the costumes and Jerry's fart attack. Of all the Halloween episodes they had, this one is easily my favorite!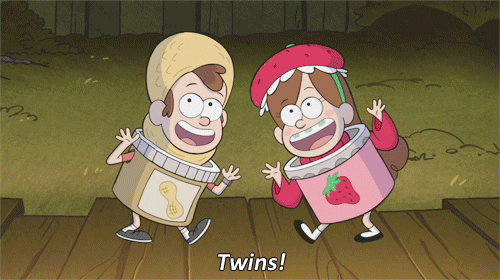 Gravity Falls is set in summer but that doesn't mean they skipped Halloween. Instead, the show invented their own holiday, Summerween and it's the title of the episode. This is a super unique way to look at Halloween and it also serves as an interesting look at Dipper and Mabel's relationship.
I'm sure there are probably 500 episodes I forgot, but those are 2 I really love. What are some of your favorite Halloween-themed TV episodes? 😀