Hello friends and fellow book lovers! This week's Top 5 Tuesday prompt is definitely appropriate as we're getting closer to Halloween. There are a ton of books with magic in there whether it be in a fantasy world, from witches or wizards or just magician's magic but let's get into it.
If you're interested in participating in Top 5 Tuesday, all you have do is write up your post and pingback to one of Shanah's posts. Make sure you pingback to her posts and not just her blog so she can add you to the list.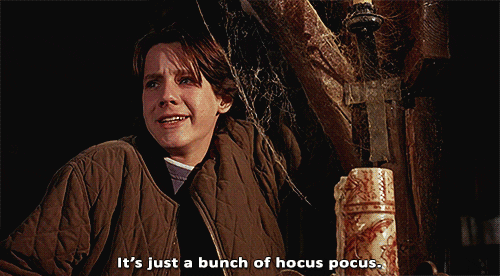 ---
5. Escaping from Houdini by Kerri Maniscalco
Being completely transparent, I haven't read this book yet. However, the title suggests there is magic involved. By the time this post goes up, I will have read so maybe I'll come back in and edit it. Even if I don't, I'm excited to see what role magic plays in this part of the series. 🙂
4. Moonstruck Volume 1: Magic to Brew by Grace Ellis & Shae Beagle
This one is pretty obvious since magic is in the title. This adorable graphic novel series follows Julie and Selena going on their first date. During the date, they go to a magic show with Julie's friend, Chet who ends up being a part of the show and it ends up becoming an even bigger mess for all of them.
This book was surprisingly dark for how cutesy the art style is. There's some dark magic featured but it's still fun. Maybe not as light and fluffy as you might think but it's worth a try for a quick read.
3. The Harry Potter series by J.K. Rowling
I don't need to go into any detail for this one. Harry Potter is a wizard and he goes to a magical school for witches and wizards. This book is definitely at the forefront when people mention magic and books, lol.
2. Spell on Wheels by Kate Leth, Megan Levens, and Marissa Louise
Moving back to the graphic novel realm, I have my first witchy book! When I think of magic and witches, this is the book I think of. Spell on Wheels is about 3 girls who are best friends and also witches. The series follows them as they try to hunt down something that was stolen from them and take down the guy who did it.
Spell on Wheels is the quintessential magic and witchy read. It's dark but still has some light-hearted moments. They end up going on a road trip, meet some interesting characters along the way and the fashion, it's just incredible. If you're looking for a fun and diverse (queer witches!) magic read, pick this one up!
1. Caroline's Heart by Austin Chant
I know I included this one in my cozy fall reads, but it's too good to not include for the second time. Caroline's Heart is a book about two trans MCs and their unlikely friendship and eventual, relationship. The two MCs are a cowboy and a witch, definitely a unique pairing.
Nevertheless, the character and relationship development are phenomenal. Considering this book is under 100 pages, it's pretty high praise. Caroline's Heart just has so many magical elements including Caroline, her heart and the backstory that goes with it. It's spooky while still being featuring an adorable romance and a creepy setting.
It's basically my life's mission to convince people to read Austin Chant's books!
What are some books with magic you'd recommend? Am I the only one who loves when graphic novels have magic? Maybe I just prefer my fantasy/magical elements with pictures lol.