Hello friends and fellow book lovers! I have some v exciting news and it's that: I read an ARC of This Is Kind of An Epic Love Story. To be completely honest, I got this ARC via the Epic Reads Insiders group so I didn't use NetGalley, contact a publisher or anything but can someone help me do that?? Thank you so much to Harper Collins for sending it to me 🙂
Anyways, I figured why not make a post not only reviewing the book but throw a tag in there for something fun? First up is going to be my spoiler-free mini review of This Is Kind of An Epic Love Story by Kheryn Callender and then I'm going to feature the "To All The Books I've Loved Before" tag so let's get into my review!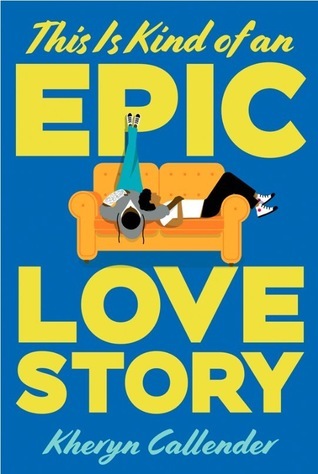 Publishing: October 18, 2018 // Length: 304 pages
Nathan Bird doesn't believe in happy endings.
Although he's the ultimate film buff and an aspiring screenwriter, Nate's seen the demise of too many relationships to believe that happy endings exist in real life.
Playing it safe to avoid a broken heart has been his MO ever since his father died and left his mom to unravel—but this strategy is not without fault. His best-friend-turned-girlfriend-turned-best-friend-again, Florence, is set on making sure Nate finds someone else. And in a twist that is rom-com-worthy, someone does come along: Oliver James Hernández, his childhood best friend.
After a painful mix-up when they were little, Nate finally has the chance to tell Ollie the truth about his feelings. But can Nate find the courage to pursue his own happily ever after?
What I liked about This Is Kind Of an Epic Love Story
Nate. My favorite character in the book was Nate since I related to him a lot and how he struggled to show his feelings. I was like that in high school and I still have trouble, talking about some of my feelings with my boyfriend. He was also a writer and had a list of favorite movies, #same.
 The friendships. I think Kheryn Callender did a great job, writing the friendships in this story. From the friendship between Nate and Ollie, the friendship between Nate and Flo, each felt realistic to me. It showed the ups and downs along with what happens with a friendship changes or what being in a relationship can do to a friendship.
The diversity. Our MC Nate is black and bi while his love interest is deaf but their sexuality isn't specified. As for Flo, she's black and her sexuality isn't specified either at least that I remember. There are also multiple romances including m/f, m/m, and f/f.
What I disliked about This is Kind of An Epic Love Story
The writing style. For some reason, the writing style didn't mesh with me. It felt a lot more like I was reading middle-grade most of the time. It was unfortunate as the book focused on more young-adult topics and important ones, at that.
The character's behaviors. Once again, maybe I'm just nitpicking but I thought the characters kind of didn't like each other? All of the friends including Nate, Ollie, Flo, Gideon, and Ash were kind of dicks to each other and it bothered me. They would love each other one minute and hate each other the next. It was annoying to try and keep up with.
The ending. The ending for This is Kind of An Epic Love Story was good but everything was wrapped up so neatly. I just wish it would have been a bit more realistic in that sense.
Long-distance relationships. Ok so this might just be an issue I had with the book, but long-distance relationships were kind of shit on and it bothered me? I'm in one so it's kind of a personal topic to me. I just wish the characters didn't see it as such as tragedy that they have to deal with. I don't know, maybe I'm just being too sensitive, lol.
Overall, this was just an alright book for me. I enjoyed it but would I reread it? Probably not. If you're looking for a quick diverse contemporary, this could be for you. Maybe, you'll enjoy it more than I did.  I gave This is Kind of an Epic Love Story a 3 out of 5 stars. 
---
In collaboration with this mini-review, I'm including a tag! I loved the movie, To All The Boys I've Loved Before and this tag was calling my name. Plus I think it kind of goes along with this review because it's a romance. Anyways, let's get into the To All The Books I've Loved Before tag!
Before I get started, thank you so much to Marianna for tagging me. I've been following Marianna forever and I always look forward to her posts. She's always so sweet when we talk in the comments so please give her some love ❤ ❤
Kenny From Camp AKA Your First Book Love
Since I always go with The Baby-Sitters Club series, I figured I'd mix it up. One book series I loved when I was younger was Arthur. The books usually had a lesson in there somewhere and I always enjoyed looking at the pictures. Plus a year or two ago, my cousin gave me a D.W. doll that sits on my shelf 😛
John Ambrose McClaren AKA the book that got away (a book that may not be your all time favorite now, but you'll always love it)
*or do you mean the best book ever because John Ambrose McClaren for life!
When I was younger, I loved The Princess Diaries series by Meg Cabot. I haven't read it in years but it was one of the first YA books I truly loved. Honestly, I feel like it's time for a reread.
Lucas from Homecoming AKA your GBF (your favorite LGBTQ+ character or book)
*I know GBF is a bad term and I'm not sure when this tag was created.
The Seven Husbands of Evelyn Hugo is my favorite LGBT+ book right now and I especially loved the amount of diversity in sexualities there were. My favorite LGBT character was probably Evelyn Hugo, though so no surprise there.
Josh Sanderson AKA the book next door (a book that you'll love no matter how many times you read it)
I've only read this book one time, but I've gone back and reread passages from it. Each time, I find something new I love or fall in love with the same section. Once again, it proves how strong Michael Bennett's voice is and I wish I had the audiobook because I'd listen to it all the time. Anyways, I love this book and I highly recommend it even if you aren't a sports fan. 🙂
Peter Kavinsky AKA your one true book love
Take your pick! Any or all of the above ❤
Honestly, this was such a fun post and I'm glad I combined these two together. I do have some questions for you guys!
Do you plan on checking out This Is Kind of An Epic Love Story or have you read it? Are you more of a Peter K fan or a John Ambrose McClaren fan?