Hello friends and fellow book lovers! Originally, I planned on writing a review of one of my Contemporary-A-Thon books but I changed my mind. My library hold on Roomies by Christina Lauren came off and I just need to talk about it!!!
I'm going to try to keep the structure similar to my last review. Unlike my previous ones, I just finished this book and I want to scream about it! Before I get started, I just have to say I used to love romance books when I was younger. I ate them up but then I got away from them and now, I'm getting back into them.
Taylor Jenkins Reid might have sparked that, but books like Roomies fan the flame. I'm getting a little bit carried away so let's get back on track.
This is my spoiler-free review of Roomies by Christina Lauren! 
---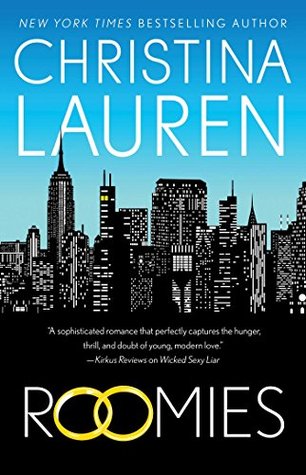 Publisher: Gallery Books // Released: December 2017
Marriages of convenience are so…inconvenient. 
Rescued by Calvin McLoughlin from a would-be subway attacker, Holland Bakker pays the brilliant musician back by pulling some of her errand-girl strings and getting him an audition with a bigtime musical director. When the tryout goes better than even Holland could have imagined, Calvin is set for a great entry into Broadway—until he admits his student visa has expired and he's in the country illegally.
Holland impulsively offers to wed the Irishman to keep him in New York, her growing infatuation a secret only to him. As their relationship evolves from awkward roommates to besotted lovers, Calvin becomes the darling of Broadway. In the middle of the theatrics and the acting-not-acting, what will it take for Holland and Calvin to realize that they both stopped pretending a long time ago?
---
Before this, I'd only read one of Christina Lauren's books, Autoboyography. It's YA and it was good but not great. I think I gave it 3 or 4 stars, not my fave by any means. Going into Roomies, I was understandably a little hesitant.
In comparison to my previous read, Roomies was everything I wanted and more. It was fun. It was relatable. It was sexy and the romance was to die for. Plus I'm always a sucker for a fake dating trope so let's get into my review.
What I liked about Roomies
Holland: Our main character Holland was incredibly relatable. In a lot of ways, I felt like I related to her too much. She struggled a lot in the novel with finding a job in her field, her crush on Calvin and eventually, her marriage with Calvin. I couldn't help rooting for her even when she was a bit stubborn.
Calvin: I don't normally choose the love interest, but he felt more like a second main character to me. At first, seeing him from Holland's perspective was decent but learning more about him made me love him. He was charming, sweet and so passionate about everything he did. Plus the adorable way they wrote his accent, I'm swooning.
Broadway: As noted by the synopsis, this book focuses on New York City but especially the Broadway scene. I loved everything about that as I'm a huge fan of musicals. The way they wrote the setting felt so vivid to me. It was almost like I was walking on the streets of New York.
Family-focused: Even though romance is the main plot, there's a lot of sweet family moments. Most notably, it's between Holland and her two uncles. It was a unique and unusual dynamic but I loved it. I also loved how close Holland was to her brother and their long phone conversations, lol.
Sexy sexy sexy: This book was pretty steamy! I'm always down to read smut and Roomies had the perfect amount for me. It honestly could've had a little more and I would've been happy, lol. Christina Lauren really knows how to write realistic but still sexy sex scenes (if that makes sense!)
Fake marriage trope done right: I won't sit here and act like Christina Lauren is the first author to do this. She isn't but it still felt unique and fresh. Mostly because Calvin is Irish and there's not really a focus on Irish immigrants, at all. While it was admittedly a little cliche, the plot still felt new and exciting.
What I disliked about Roomies

Lulu: In the book, we're introduced to Holland's friend Lulu. This girl is the epitome of a hot mess and it's so annoying. From a certain point, I couldn't stop rolling my eyes or cringing at how obnoxious she was. She also wasn't a very good friend to Holland either.
The lack of communication: For the most part, this book did a great job of demonstrating good communication between Holland and Calvin. As for the times it didn't, I was ready to rip my hair out. I know Holland's 25 (my age) and I'm not sure how old Calvin is but they let the little stuff go but let the big issues fester. It was so frustrating to read.
The last 1/4 of the book: This one kind of goes along with my previous point. At a certain point, the book turns one way and it feels like whiplash? It was jarring especially the ending. Honestly, I would've loved another chapter or two, maybe even an epilogue to wrap things up.
---
Honestly, I didn't give away any spoilers! I think I kept it pretty vague or I used what was written in the synopsis, I hope so. Going into this book, I didn't plan on loving it this much or even reviewing it but it was a lovely surprise.
I gave Roomies by Christina Lauren a 4.5 out of 5 stars. 
Have you read Roomies by Christina Lauren? Are you a fan of romance books? If so, do you have any recommendations for me? I always on the lookout for more romance books 🙂
Find me on Twitter & Goodreads