Hello friends and fellow book lovers! This Sunday, I'm coming at you guys with something a little bit different. As you know, I've been trying to clean out my tags recently. That being said, I'm going to be doubling up and featuring two tags in one post.
This week's tags are The Awesome Blogger Award. I was tagged by Ally from AllyWritesThings who is one of my favorite people, a great friend, and such a wonderful blogger. The other tag I'm featuring is the Unique Blogger Award and I was tagged By Siobhan from Siobhan's Novelties. I've only been following Siobhan for a few months but she's such a welcoming and sweet blogger.
You should definitely check them out if you don't follow them! They're such awesome bloggers and people. First up is the Awesome Blogger Award.
---
The Awesome Blogger Award
Rules
Thank the person who nominated you.
Tag it under #awesomebloggeraward
Answer the questions asked.
Nominate at least five awesome bloggers.
Give your nominees ten questions.
Let your nominees know that they've been nominated.
The award was created by Maggie @ Dreaming of Guatemala who stated, "This is an award for the absolutely wonderful writers all across the blogging world. They have beautiful blogs, are kind and lovely, and always find a way to add happiness and laughter to the lives of their readers. That is what truly defines an awesome blogger."
Ally's Questions:
1. If you could only read one 2018 release, which would it be?
Um why would you do this to me?? I'm horrible at making decisions!
After a little bit of thinking, I decided on Escaping from Houdini. I love the Stalking Jack the Ripper series and there's no way I couldn't pick it. Waiting until 2019 would be frustrating plus it's the next-to-the-last book so I have to read it since we'll be waiting a long time for the last book.
2. What's one series you'd like to turn into a TV show?
Looking through my Goodreads, this book stood out to me first. Even though I didn't love Dread Nation as much, I think it'd translate well to TV. With a focus on historical TV shows, a series focusing on a powerful black woman during the Civil War would be amazing.
3. Do you listen to podcasts? If so, which ones?
Yes, I do! Right now, I've been kind of taking a break from them because I end up having a phase with podcasts. I either listen to them all the time or rarely listen to them. I'm in the latter at the moment lol.
However, two of my favorites are Pod's Burgers, a Bob's Burgers podcast hosted by two sisters and Drawn, a collab between HowStuffWorks and Cartoon Network. Both focus on cartoons and are incredibly fun if you're a fan of cartoons. 🙂
4. Do you have any weird hobbies?
Not that I can think of?
5. What's your favorite animal?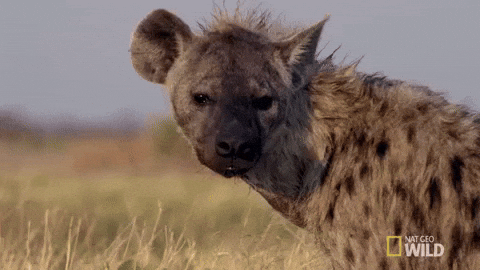 Hyena which is a random pick but I just love them lol. I also really like sea otters as they're my mom's favorite animal 🙂
6. Describe your dream reading room.
My dream reading room would be either light blue or pink. Maybe a Sleeping Beauty theme, lol. Honestly, I'd love for a dream reading room/office. I'd like to have a computer on one side of the room with a desk.
On the other side of the room, I'd like to have a couch or futon. There would be lots of blankets and pillows so I could get nice and cozy. Basically, I'd love to have my own office with a little reading nook in there.
7. Who's your favorite author?
Any surprise here? I think not.
8. If you could travel anywhere with any book character, where and who?
Because I'm #trash, I'm going with Grip from Grip series by Kennedy Ryan. He reminds me a lot of my boyfriend and he's super attractive. Probably a superficial reason but he sounds so good looking, I die.
If I was going with Grip, I'd want to go somewhere completely calming. My dream vacation is Hawaii so probably to Hawaii. I'd love to stay in a fancy hotel on the beach where we'd just spend all day together. Why am I so extra? You could honestly swap out Grip's name with my bf and this would be too real lol.
9.  What's your go-to Starbucks (or other coffee shop) order?
Sadly, there is no Starbucks near me but there was one on my college campus. When I was there, I ordered a chocolate chip frappe.
When I'm near a Dunkin Donuts, I order a blueberry iced tea with sugar. If I'm at home, I go up to Sheetz and get a hot chocolate.
10. Are there any books on your TBR that you probably will never read but you convince yourself you will?
Basically all of the classics I have on my TBR, lol. I'm not a big classics reader even though I have a bunch on my TBR.
Since I'm doing two tags, I won't be tagging anyone so onto the Unique Blogger Award!
---
The Unique Blogger Award
Rules:
Display the award
Thank the person who nominated you and post a link to their blog on your blog
Answer the questions they've written for you
Nominate 8-13 bloggers and give them three questions in the spirit of sharing love and solidarity within our blogging family!
Siobhan's Questions:
1. Which author would you love to co-write a book with?
At first, I thought about Emma Mills but I changed my mind. I love Kennedy Ryan's Grip series. I also love her writing style, how she writes relationships and her focus on interracial relationships. I'd love to work with her and write something similar.
2.  If you could only read books from five authors for the rest of your life, who would you choose?
Oh boy, let's see if I can do this.
Emma Mills
Kennedy Ryan
Ann M. Martin
Kerri Maniscalco
Loren Bouchard
Those are my answers for now even though I'll probably change my mind tomorrow 😛
3. Which genre do you like the least?
I don't want to say there's a genre I like least, but ones I definitely read less. For sure, I'd have to go with fantasy and horror. Those are two genres I never gravitate towards but maybe I just haven't found the right book yet.
---
I won't be tagging anyone for these but feel free to do them if you want!
That was the Awesome Blogger Award and the Unique Blogger Award. Thank you so much to Ally and Siobhan for tagging me. You're both such wonderful humans.
I'd love to hear your response to any of the questions in the comments! 🙂