Hello friends and fellow book lovers! I told you, there would be a lot of tags this month and you can probably see why. Funny enough: I start getting caught up and then some of my friends tag me in more things and I'm back where I started 😛 Not that I'm complaining, because I love to write tag posts!!!!
Anyways, I was tagged by Michelle @chellesbookramblings. If you're not following Michelle, she writes a lot of fun bookish posts and I always get good recommendations of books I've never heard of. I was also tagged by Lily @SprinklesofDreams and she's one of my new bookish friends. She has such a great aesthetic ❤ Please check them both out!
Thank you to Michelle and Lily for tagging me. Since this is gonna be a long post, let's get into answering this tag!
---
The Rules
Put the award logo/image on your blog and list the rules.
Thank whoever nominated you and provide a link to their blog.
Mention the creator of the award and provide a link as well. (Okoto Enigma)
Tell your readers 3 things about yourself.
You have to nominate 10 – 20 people.
Notify your nominees by commenting on their blog.
Ask your nominees any 5 questions of your choice; with one weird or funny question (specify).
Share a link to your best post(s)
6 Facts About Me:
I've never had an interest in playing sports or an instrument. As a kid, I was more focused on reading or doing my own thing. As someone who has terrible hand and eye coordination, it probably wouldn't have been a good fit anyways.
Recently, I started giving audiobooks a try and I enjoy them! I sometimes struggle to focus but I think that's normal. After giving up many times before, I think this time will finally stick.
When I was younger, I really enjoyed reading romance novels. I think it's because I wanted to read smut and that's about all I could handle. Well until I started reading fanfiction lol.
My favorite day of the week is Thursday for some reason. It always has been as it's almost the weekend and the week is finally almost over!
Last year, I went on a cruise to Alaska and decided cruises aren't for me. I enjoyed Alaska but being on a cruise ship was not for me. It was busy, full of old people and I got seasick
I hate sleeping with my window open after I had a nightmare someone came into my room and tried to kidnap me. Now, I'm terrified it's actually going to happen!
Michelle's Questions:
1. What's your favorite Genre to read?
Contemporary! I've always loved contemporary books even as a kid and I always gravitate more towards them than any other genre.
2. Which character (Book/Movie/TV Show) would you save from a burning building??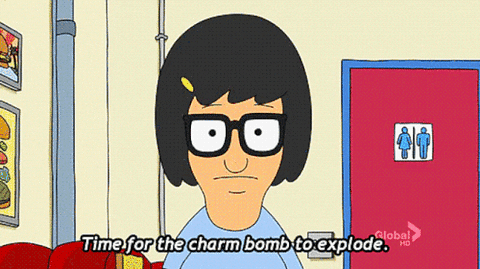 3. Has a review (good or bad) ever changed your mind about a book??
Absolutely! If I'm planning on adding a book to my TBR or buying it, I usually check either Goodreads or with fellow bloggers before I do. I don't want to invest my money in something if it's not going to be worth it.
4. What is your favorite non-bookish activity?
I won't count writing as that's usually what I say! One of my other favorite non-bookish activities is watching Youtube. In the last year or so, I've become obsessed with Youtube and watch it at least once a day. Probably multiple times a day because there's almost always something that interests me.
5. Tell me something about where you are from?? It can be a funny story or just what it's like over there.
I live in a small town in Pennsylvania. There's honestly not much around it and we can't even get a pizza delivered to my house. It's kind of sad because I never want to leave but still want food?? I don't think I really have any funny stories as it's basically just the same thing all the time 😛
Lily's Questions:
1. What accomplishment are you most proud of?
Graduating from college!
2. What is something you wish you were better at?
Not caring about dumb stuff. I know that sounds bad, but I get worried about the dumbest stuff and I wish I didn't. I wish I could just forget about stuff and let it go so I wouldn't be so anxious lol.
3. Do you like (using) emojis or smileys in messages?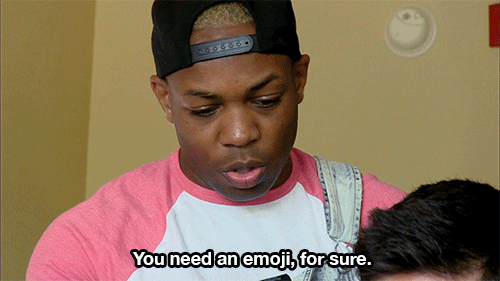 You know it! Lily and I actually talked about this in the comments 🙂 🙂 ❤ ❤
4. Which person, dead or alive, do you admire & why?
My Nana. She passed away on my first day of college, but I admired her for how she handled adversity, her work ethic, and her cooking ability. My Nana could cook anything and make it delicious. She was also never a hateful or mean person, she saw the best in everyone.
5. Describe your day in one sentence.
I worked 6-10 am, took a nap and now I'm working on my blog.
---
My Best Posts:
Since I was tagged twice, I'm going to share two of my best/favorite posts I've written.
My first fave has to be my review of Foolish Hearts and my ode to Emma Mills. I enjoyed writing that post and still love reading it 🙂
My second fave is The Lady Janies Book Tag that Ellyn and I made together. I've been wanting to make a tag forever and I'm glad we worked together on this one!
---
This is such a cop-out but I'm not tagging anyone as I've written a ton of tag posts this month and don't want to overwhelm people!
Have you ever been on a cruise? If so, have you ever gotten seasick? If not, would you ever go on a cruise?