Hello friends and fellow book lovers! Have I mentioned I love to plan this blog and have it organized? Unfortunately, life doesn't always work out that way but let me give a little story before my review.
This week, my parents are on vacation and I'm working so all the responsibilities at home fell to me. By the time you're reading this, they'll be home but it's a lot of crap to remember lol. Anyways, I anticipated either reviewing The Way You Make Me Feel by Maurene Goo or My Plain Jane by the Lady Janies.
Sadly, I have yet to read either so you're getting a spoiler-free review of I Believe In A Thing Called Love by Maurene Goo. 
---
Publisher: Farrar, Straus and Giroux // Released: May 2017
Desi Lee believes anything is possible if you have a plan. That's how she became student body president. Varsity soccer star. And it's how she'll get into Stanford. But—she's never had a boyfriend. In fact, she's a disaster in romance, a clumsy, stammering humiliation magnet whose botched attempts at flirting have become legendary with her friends. So when the hottest human specimen to have ever lived walks into her life one day, Desi decides to tackle her flirting failures with the same zest she's applied to everything else in her life.
She finds guidance in the Korean dramas her father has been obsessively watching for years—where the hapless heroine always seems to end up in the arms of her true love by episode ten. It's a simple formula, and Desi is a quick study. Armed with her "K Drama Steps to True Love," Desi goes after the moody, elusive artist Luca Drakos—and boat rescues, love triangles, and staged car crashes ensue. But when the fun and games turn to true feels, Desi finds out that real love is about way more than just drama.
---
I'm trying something different with my reviews. It's going to be a similar format but without the bullet points. I picked up I Believe In a Thing Called Love on a whim and really enjoyed it. It was such an awesome contemporary read and I read it in just a few sittings in one day. Such a great one for summer!
What I liked about I Believe In A Thing Called Love
Characters: The main reason I kept reading was the characters. Goo really knows how to write compelling characters. Our main character Desi is smart but also still goofy and at times, dramatic. Despite that, she's a compelling and fun character you can't help but root for her.
Additionally, she has a wonderful support system around her. Her father is a sweet man who only wants the best for her. She also has 2 best friends who want the best for her but aren't afraid to tell her to pump the brakes.
The romance: Of course, I'd have to talk about the romance. I'm always down for a mysterious bad boy and that's Luca. Personally, I pictured an emo Chad Michael Murray but anyways. The romance was the focal point of the story and what the entire plot was based around. Personally, I found that kind of relatable as I would have followed Desi's idea…albeit without any success lol.
K-dramas: The entirety of the plot focuses on Desi's different ways to "get a boyfriend" using K-dramas. Personally, I've never watched K-dramas but they seem amazing?? The book makes them sound so dramatic and fun! I might have to give K-dramas a chance since this book features a guide in the back!
What I disliked about I Believe In A Thing Called Love
The theatrics: I'm all for being dramatic but Desi took it too far. Even the blurb talks about the lengths she goes for Luca. Personally, I thought it was a little bit frustrating and annoying to have her act that way. No sane and or normal person would go to such extreme lengths for attention? (At least I'd hope not!)
Luca's family: At a certain point in the book, we're introduced to Luca's family. We hear a bit about them and basically, every single one of them is terrible? Every time one of them was in a scene, I would either skim read or just roll my eyes. It was bad.
Desi's lack of common sense: This one kind of goes hand-in-hand with the first point. It was so annoying to see Goo portray Desi as smart when she acted dumb. She would make stupid choices and one HUGE life decision over something little. Maybe it's because I'm a little older but come on girl! (If you've read the book, you know what I mean!)
---
All in all, I really enjoyed I Believe In A Thing Called Love and I gave it a 4 out of 5 stars! 
It was my first Maurene Goo book and obviously, not my last. I'm hoping The Way You Make Me Feel is every bit as enjoyable. Hopefully, a little more 😛 (Enjoy a gif of how I feel when I'm writing this review!)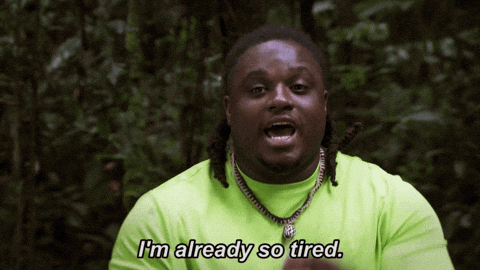 Have you read I Believe In A Thing Called Love? Would you recommend Goo's other book, The Way You Make Me Feel?