Hello friends and fellow book lovers! It's Tuesday and you know what that means? It's time for another Top 5 Tuesday post. Similar to last week's post, we're looking for covers that feature 3 colors on them. At least, that's what I'm thinking haha.
If you're interested in participating in Top 5 Tuesday, all you have do is write up your post and pingback to one of Shanah's posts. Make sure you pingback to her posts and not just her blog so she can add you to the list.
With all the information out of the way, let's get into some of my favorite covers featuring green, blue and purple!
5. Wing Jones
This is a cover I was iffy about, but I think it counts! Wing Jones was a book I enjoyed last year but no one else really talked about it. Regardless, I thought it was good and the cover features blue on the shoes, green on the soles and purple on the laces. At least, I think I can get away with calling the shoes blue 😛
4. Warcross
No list would be complete without the cover of Warcross. This book features almost all six colors but I'm using it for blue, green and purple. This was another book I enjoyed when I read it last year and I can't wait for the sequel. As far as covers go, this is really cool and futuristic.

3. Geekerella
Honestly, is this a post about books I loved last year? Geekerella was one of the first books I read last year and I really enjoyed it. It's such a unique Cinderella retelling and I can see why it got as hype as it did.
As far as covers go, this is one of my favorites. It features all the colors and a wiener dog like my puppy Chopper ❤ I especially love the purple ombre effect and how the yellow contrasts with everything else.
2. Girl Made of Stars
Fast-forward to books I either want to read this year or read this year. I've had Girl Made of Stars sitting on my shelf since it came out and haven't picked it up yet. However, it does have a beautiful cover featuring all the colors. This is also Ashley Herring Blake's second time making my list 🙂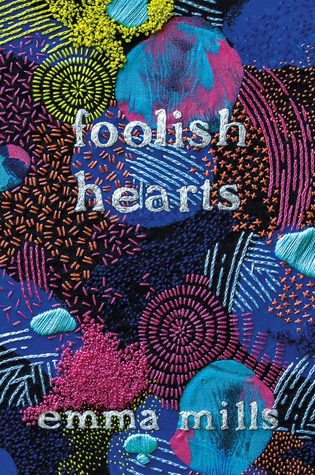 1. Foolish Hearts
Is anyone shocked? No? Okay then!
---
What are some of your favorite covers featuring blue, green and purple? 🙂