Hello friends and fellow book lovers! Hopefully, you're having a lovely morning or afternoon or evening. It's Wednesday and that means: It's time for another Shelf Control post. These are easily becoming some of my favorite posts to write 🙂
Similar to previous months, I'm theming my Shelf Control posts this month. Since it's Pride Month, all the books will either feature a book with characters on the lgbtqia+ spectrum or authors who are LGBTQIA!
Here is what Shelf Control is and the rules: Shelf Control is a weekly celebration of the unread books on our shelves. Pick a book you own but haven't read, write a post about it (suggestions: include what it's about, why you want to read it, and when you got it), and link up! For more info on what Shelf Control is all about, check out my introductory post, here.
RULES
Write a blog post about a book that you own that you haven't read yet.
Add your link in the comments!
If you'd be so kind, I'd appreciate a link back from your own post.
Check out other posts, and…have fun 🙂
The Miseducation of Cameron Post by Emily M. Danforth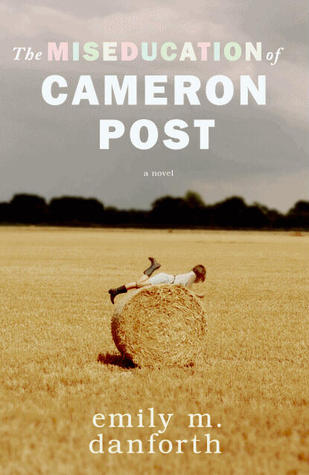 Published: 2012 // Length: 470 pages
When Cameron Post's parents die suddenly in a car crash, her shocking first thought is relief. Relief they'll never know that, hours earlier, she had been kissing a girl.
But that relief doesn't last, and Cam is soon forced to move in with her conservative aunt Ruth and her well-intentioned but hopelessly old-fashioned grandmother. She knows that from this point on, her life will forever be different. Survival in Miles City, Montana, means blending in and leaving well enough alone (as her grandmother might say), and Cam becomes an expert at both.
Then Coley Taylor moves to town. Beautiful, pickup-driving Coley is a perfect cowgirl with the perfect boyfriend to match. She and Cam forge an unexpected and intense friendship — one that seems to leave room for something more to emerge. But just as that starts to seem like a real possibility, ultrareligious Aunt Ruth takes drastic action to 'fix' her niece, bringing Cam face-to-face with the cost of denying her true self — even if she's not exactly sure who that is.
---
Why I want to read The Miseducation of Cameron Post: Usually when people recommend lesbian books, this one always comes up. I've heard booktubers rave about it and it was published in 2012, years and years before #ownvoices even began. I'm anxious to see if it lives up to the hype and if it'll become one of my new favorite f/f books.
Have you read The Miseducation of Cameron Post?