Hello friends and fellow book lovers! I can't believe it's the end of May already and summer is finally here (almost here?) I'm not really sure, but let's celebrate with a Top 5 Tuesday post.
This week was another tough one for me, but I enjoy the challenges. I like thinking out of the box and testing myself. We wouldn't get better if we didn't. Anyways, I decided since I don't read much sci-fi, I'd focus on 5 science fiction books I want to read!
If you're interested in participating in Top 5 Tuesday, all you have do is write up your post and pingback to one of Shanah's posts. Make sure you pingback to her posts and not just her blog so she can add you to the list.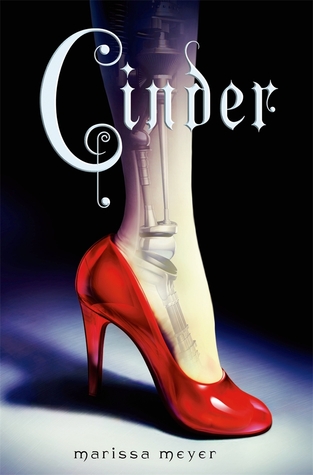 5. The Lunar Chronicles series
Okay, let's get the big one out of the way first. I've talked many other times about The Lunar Chronicles and my desire to read it. Up until this moment, I didn't realize it was sci-fi. I actually thought it was fantasy, but now I'm a bit more intrigued by it.
Obviously, I'm a sucker for a good retelling, but I can't wait to see how these classic characters are transformed into sci-fi. I've heard good things about this series and the author, Marissa Meyer so this one is high on my list.
4. Brightly Burning
Like I mentioned above, I'm a sucker for a retelling. I have yet to read a retelling of Jane Eyre and that's what Brightly Burning is pitched as. Even if it doesn't deliver, I'm excited at the prospect of it. I'd love to see Alex Donne would tell a similar story to a classic but in space.
Of all the books, this is the one I'm most nervous about starting. The other 4 on my lists are ones I've heard good things about or am sure I'll enjoy. As an oddball choice, I'm on the fence with my feelings towards it.

3. When The Moon Was Ours
This was another book I wasn't sure was sci-fi. According to Google and Goodreads, it is so it's on my list. I've never read anything by Anna-Marie McLemore but I've heard such wonderful things. When The Moon Was Ours seems like an interesting sci-fi book and unlike anything I've read before.
I know McLemore has a reputation for writing magical realism, so I'd like to see how she writes science fiction. Honestly, I'm just excited to finally read something by her and see if I love her as much as everyone else seems to.
2. The Loneliest Girl In The Universe
Confession time: I was supposed to buddy-read this months ago and never did. Oops, anyways this book has been on my TBR since then. Every time I look at the cover, it draws my eye in and makes me want to read it.
Similar to the other books, I don't know much about it and I don't want to. I think it's better doing into sci-fi not knowing much. Either way, this book has been calling to me forever and it's finally time that I buckle down and read it!
1. Any and almost all Star Wars canon books
Even though I don't talk about it much on here, I'm a huge Star Wars fan. I'm pretty new to the franchise (going on 3 years), but it gripped me. Since the new movies, there have been plenty of canon books published about certain characters, different movies and it's super cool to see a new layer added to the franchise.
However, I have yet to pick up one of the canon books. The two I'm most excited for is Leia: Princess of Alderaan and Bloodline, both written by Claudia Gray. Leia is my favorite character and I'd love to learn about her, her life growing up and the events leading up to The Force Awakens.
There are a ton of books set in this universe and I'd love to get my hands on a few. Of all the books on my list, I'm most excited to tackle these!
---
Have you read any of the books on my list? Do you have a favorite Star Wars character? 🙂
Any recommendations for someone who isn't normally a sci-fi reader?