Hello friends and fellow book lovers! Hope you are all having an amazing lovely Wednesday. As it is Wednesday, it's time to get into my Shelf Control post of the week and I'm also continuing on by featuring the first book in a series.
Before I get into the rules, here's a brief idea of what this meme is. I'm just going to copy or paste what she shares before each post: Shelf Control is a weekly celebration of the unread books on our shelves. Pick a book you own but haven't read, write a post about it (suggestions: include what it's about, why you want to read it, and when you got it), and link up! For more info on what Shelf Control is all about, check out my introductory post, here.
RULES
Write a blog post about a book that you own that you haven't read yet.
Add your link in the comments!
If you'd be so kind, I'd appreciate a link back from your own post.
Check out other posts, and…have fun 🙂
The Wrath and the Dawn by Renee Ahdieh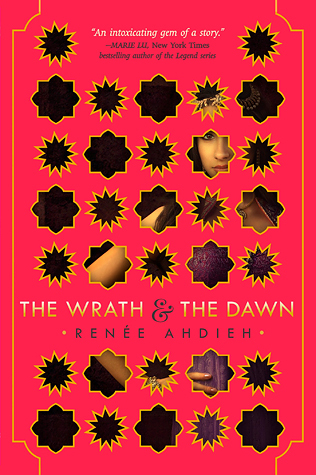 Published: 2015 // Length: 404 pages
In a land ruled by a murderous boy-king, each dawn brings heartache to a new family. Khalid, the eighteen-year-old Caliph of Khorasan, is a monster. Each night he takes a new bride only to have a silk cord wrapped around her throat come morning. When sixteen-year-old Shahrzad's dearest friend falls victim to Khalid, Shahrzad vows vengeance and volunteers to be his next bride. Shahrzad is determined not only to stay alive, but to end the caliph's reign of terror once and for all.
Night after night, Shahrzad beguiles Khalid, weaving stories that enchant, ensuring her survival, though she knows each dawn could be her last. But something she never expected begins to happen: Khalid is nothing like what she'd imagined him to be. This monster is a boy with a tormented heart. Incredibly, Shahrzad finds herself falling in love. How is this possible? It's an unforgivable betrayal. Still, Shahrzad has come to understand all is not as it seems in this palace of marble and stone. She resolves to uncover whatever secrets lurk and, despite her love, be ready to take Khalid's life as retribution for the many lives he's stolen. Can their love survive this world of stories and secrets?
---
How and When I Got It: Once again, I completely forget when I got this book. Ever since I read Flame in the Mist, I've been wanting to read more from Ahdieh. That's the main reason of how I came to acquire it.
Why I want to read it: I have a few reasons why I want to read The Wrath and the Dawn actually. It's one of the books I mentioned in my series I'd like to start plus I know a lot of people enjoy it. I've also read Flame in the Mist and enjoyed it so I want to see if I enjoy her other works, too.
Right now, I'm trying to knock some duologies out as I just finished the Harry Potter series. Going from seven books to two books is going to feel like a breeze.
Have you read The Wrath and the Dawn?