Hello friends and fellow book lovers! Wednesday is here again and that means: It's time for another Shelf Control post. Like I've been pointing out, this is a fun way to look back on your TBR and just unread books you have.
Here's what Shelf Control is and the rules if you want to participate. I'm just going to copy or paste what she shares before each post: Shelf Control is a weekly celebration of the unread books on our shelves. Pick a book you own but haven't read, write a post about it (suggestions: include what it's about, why you want to read it, and when you got it), and link up! For more info on what Shelf Control is all about, check out my introductory post, here.
RULES
Write a blog post about a book that you own that you haven't read yet.
Add your link in the comments!
If you'd be so kind, I'd appreciate a link back from your own post.
Check out other posts, and…have fun 🙂
The Diviners by Libba Bray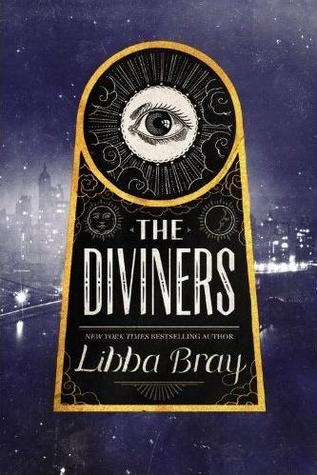 Published: 2012 // Length: 578 pages
Evie O'Neill has been exiled from her boring old hometown and shipped off to the bustling streets of New York City—and she is pos-i-tute-ly ecstatic. It's 1926, and New York is filled with speakeasies, Ziegfeld girls, and rakish pickpockets. The only catch is that she has to live with her uncle Will and his unhealthy obsession with the occult.
Evie worries he'll discover her darkest secret: a supernatural power that has only brought her trouble so far. But when the police find a murdered girl branded with a cryptic symbol and Will is called to the scene, Evie realizes her gift could help catch a serial killer.
As Evie jumps headlong into a dance with a murderer, other stories unfold in the city that never sleeps. A young man named Memphis is caught between two worlds. A chorus girl named Theta is running from her past. A student named Jericho hides a shocking secret. And unknown to all, something dark and evil has awakened.
---
How and When I Got It: Once again, this is another one I've heard a lot about and decided just to download it. Since then, I haven't picked it up or even really looked about it.
Why I want to read it: There are few reasons why I want to read this. I've heard such amazing things about this series so there's that. I also want to finally read something by Libba Bray. I think this was another series I wanted to start this year so maybe I'll actually start this year. 🙂
Have you read The Diviners or anything by Libba Bray? Also, how are you all enjoying me featuring the first books in a series? I thought I'd switch up just for this month and do a theme. 🙂