Hello friends and fellow book lovers! Welcome to a new monthly meme on my blog entitled Wizarding Wednesday. This is basically a way for me to talk a little bit about Harry Potter each month since I'm spending 2018, reading the entire series.
I don't really have set date when I'll be posting it. I'm going to be joining another Wednesday meme so be on the lookout. However, this meme will just a monthly post where I talk about Harry Potter, basically a free for all.
I wasn't originally planning on creating a meme out of this, but if you want to, feel free to create your own Wizarding Wednesday posts, too. All I ask if you do participate is pingback to this or one of my future posts. I won't make prompts or anything so just feel free to make an HP-related post. Without further ado, let's get to what I'm talking about this week.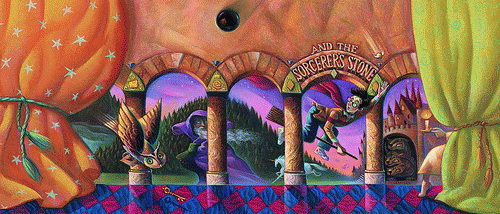 While I have yet to get this question, I'm surprised I haven't. Why did I decide to read the Harry Potter series this year? The series is over 20 years old, but still reminds many people's favorites to this day. However, I had yet to actually pick it up until now so let's get into why I wanted to read it now.
Part of the reason is that I started this book blog. Before I blissfully ignored Harry Potter including the books, the movies, and the merchandise, but almost every post included something about the series. There were people making posts about it, people rereading it and people just plain loving it. If so many of my fellow bloggers loved it, then I couldn't put off reading it any longer.
Another reason I decided to read Harry Potter now is that I wanted to start some new series in 2018. At the beginning of the year, it always feels like a fresh start so why not start something new? I knew it was going to take a few months to do and so far, I'm only on book 5. Not to mention, it's another iconic series and one of the biggest YA fantasy series, ever.
I couldn't not talk about the movies, though. The Harry Potter movie adaptations are known as some of the best in the business. From their great casting to brilliant acting to comparison to the books, it's hard not to be captivated by them. I believe I've only watched the first two but I'm looking forward to seeing the story come alive before my eyes.
Another reason why I had to pick them up is the Wizarding World. My boyfriend and I eventually hope to go to Disney World so why not head to the Wizarding World in Universal too? Seeing the pictures, commercials and people's Instagram posts makes it look so cool. I'm not even sure when or if I'll get to go, but it would be a fun vacation spot and something I wouldn't want to miss just because I haven't read the books!
Last but not least, the final reason I waited to read the books is so I wouldn't have to wait. I'm sure a lot of you would agree with me on this. You'd rather read all the books at your own pace instead of having to wait for them to come out. Even though the series wrapped up in 2007, I'd rather know I have all the books at my fingertips to put down and pick back up as I please.
That's it for my first Wizarding Wednesday post! When did you decide to read the Harry Potter series?