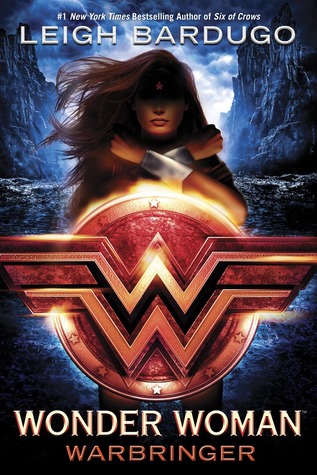 Hello friends and fellow book lovers! Heading into this book, I had sky-high expectations. I'm a huge fan of Wonder Woman as a character, loved the movie in 2017, have a ton of merch and I'm just a huge fangirl for her. Considering this book is a retelling of sorts, I was a little skeptical.
Thankfully, I did enjoy Wonder Woman: Warbringer. It was such a pleasant surprise considering I don't really read fantasy. Overall, it was a wonderful book but let's get into the nitty-gritty. This is a spoiler-free review so no need to worry if you haven't read! 
Like I mentioned above, I'm a huge Wonder Woman fan so there was no way I wasn't going to pick up this book. I might be a few months late, but a good way to start off the year. Reading the synopsis, there wasn't much to go off of. That's one thing I enjoyed about the book because even if you're a WW fan, you have no idea what to expect.
Starting off with the writing style! I'm by no means a huge fantasy fan so I was a little skeptical heading into this. As a first-time Leigh Bardugo reader, I did enjoy her writing style. She built such a fantastical world, lifelike characters and brought an entirely new depth to the origin story of Wonder Woman.
The only issue I had with her writing style was sometimes she did more telling than showing. I know it's hard at times, but I would have liked her to show us more instead of telling. It's just a small nitpick, but I truly did enjoy her writing style and can't wait to pick up more from her.
Next is the plotline of the story. I won't give away anything about the events, but the plotline of the story was incredibly unique. It gave us a look at who Diana was before she was Wonder Woman and how she came to be. As for the other major plotline, we watch Alia and Diana team up to try to save the world.
As much as I loved seeing Diana's character growth, the plotline of trying to save the world and stop the Warbringer had me on the edge of my seat. Every time I thought I knew was happening, it would be a left turn or a huge plot twist. The plot twist at the end…oh my lord. I was so shocked, I had to put my book down!
If you're not a usual fantasy reader like me, you might be a little discouraged. There's quite a bit of world-building at the beginning and it takes a while to get to the action. Just be patient and make your way through it. Trust me, it will be worth it in the end.
Last but not least is how I felt about the overall story. It was a slow start for me, but once it picked up, I couldn't put the book down. There were so much action and adventure but also lovely moments of friendship and girl power. It was a fierce, fun and feminist read.
Before I talk about my rating, I'd like to mention I'm participating in the 2018 PopSugar Reading challenge. This is my first year participating and what better way to announce it than in my review? Wonder Woman: Warbringer fulfills the challenge of a book with alliteration in the title.
I give Wonder Woman: Warbringer a 5 out of 5 stars.
Do you plan on reading Wonder Woman: Warbringer? If you have, what did you think and lastly, are you participating in the PopSugar Reading Challenge this year?